Pre-sale links to the album, a headlining tour in October 2022 and other band info are here :- https://whenriversmeet.co.uk/ I https://www.thegigcartel.com/Artists-profiles/When-Rivers-Meet.htm I https://bit.ly/3GUTmoO I https://twitter.com/WhenRiversMeet I https://www.instagram.com/whenriversmeet/ I https://www.youtube.com/c/whenriversmeet I https://open.spotify.com/artist/3r4hYfzQA1yuQFEKMDJzJi
So what do husband and wife duo Grace and Aaron Bond from When Rivers Meet do after completing their first 17 date April/May 2022 headlining tour? They decide to release a live album The Flying Free Tour Live taken from it on July 29th!
Grace describes it as "Our first ever headline tour was amazing. We wanted to capture some of the incredible moments. We've always enjoyed listening and watching live recordings and it's been a dream of ours to create our very own".
The album will be available in a variety of formats but I can highly recommend the DVD so as to embrace the power of the band. These thirteen songs taken from their first two studio albums We Fly Free and Saving Grace and first two EP's The Uprising and Innocence Of Youth make for a sixty minute performance footage that includes bonus features of crowd reactions and interactions.
A boisterous crowd introduction sees the band stroll onstage and head straight into 'Did I Break The Law' as a rock hard main riff from Aaron drives this thumper along, joined by the glass shattering vocals that also find time to soothe from Grace.
Tasty slide guitar in 'Walking On The Wire' will have you walking and sliding around the room whilst busting some moves throughout this Southern rock tinged toe tapper as extra heaviness comes from Grace on electric mandolin and twin lead vocals are breathtaking.
A skin shivering acapella intro to 'My Baby Says He Loves Me' heads off into full on blues bluster. Guitar chops make way for an earworm mandolin solo as Grace also effortlessly hits a high vocal.
Bassist Roger Inniss stands toe to toe with Aaron to forge the intro to 'Battleground'. Free from instruments Grace sashays around the stage whilst crooning a sassy and classy vocal.
There was probably not a dry eye in the venue for the poignant ballad 'Don't Tell Me Goodbye'. Grace and Aaron share the vocals, look each other in the eye and don't waver until the song finishes.
Abrasive slide guitar work rules 'Free Man', a barroom boogie ballbuster and fuel to the fire comes from more mandolin.
Once again slide guitar is an unstoppable force of nature throughout 'Lost And Found' as Aaron swoops up and down his fretboard over an angelic lead vocal from Grace, nailed down by a tight rhythm section including James Fox on drums.
Tectonic plates must have shifted from the not so innocent riffs in 'Innocence Of Youth' to make the heaviest song on the album when it kicks into gear after a teasing intro.
Time seemed to stand still for 'Bury My Body' to let this vocal duet take over the World briefly to break the coldest of hearts and becomes even more beautiful with an outro of violin and acoustic guitar.
A tasty keyboard intro to 'Tomorrow' sees the crowd try to out sing Grace and they do a damn good job!
'Kissing The Sky' has stop start grooves that punch the sky as well as kiss it that features a mesmerising, perfectly picked mandolin solo.
'Want Our Love' ups the heaviness ante to shake the foundations of any venue. Wiry violin lines are ethereal to send it skywards as a laid back midsection heralds mighty "Whoa oh oh's" crowd participation and a drum driven outro.
The album closes on my favourite song 'Testify' featuring one last vocal tour de force as the band don't just kick out the jams, they send them into orbit and they take their well earned bows to rapturous applause!
The Flying Free Live album track listing :-
Did I Break The Law.
Walking On The Wire.
My Babe Says He Loves Me.
Battleground.
Don't Tell Me Goodbye.
Free Man.
Lost And Found.
Innocence Of Youth.
Bury My Body.
Tomorrow.
Kissing The Sky.
Want Our Love.
Testify.
Album personnel :-
Grace Bond – Lead Vocals/Mandolin/Violin.
Aaron Bond – Vocals/Guitar.
Roger Inniss – Bass Guitar.
James Fox – Drums/Keyboards/Backing Vocals.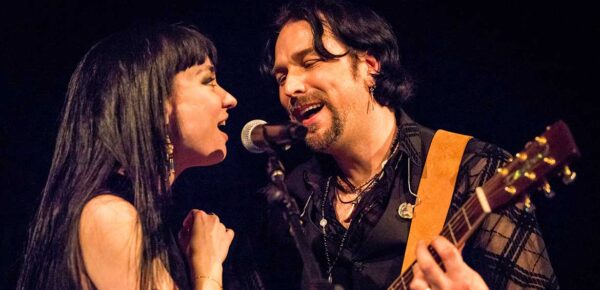 When Rivers Meet take flight for their new live album The Flying Free Tour Live.