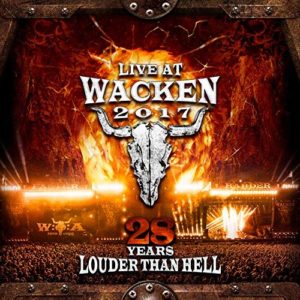 As this year's Wacken festival approaches it's time for their annual CD/DVD release featuring some of the best performances from the previous year's event. These releases are a great souvenir for fans who were there and also are great releases in their own right. The sound is always crystal clear and the video is fantastic – multiple cameras and always well edited. It's because Wacken is so good at recording and filming performances that there are so many bands that have released live DVDs or CDs of their Wacken sets, or have used the material as bonus tracks etc.
So who is featured this time? Well you've got Europe, Sonata Arctica, Apocalyptica, Turbonegro, Accept (with an orchestra), Kreator, Avantasia and a whole host of other names – it is after all a double DVD release. Check the track listing below for full details. It's great that it's not just the big names on the main stages that are recorded or filmed – as an example, you've got Evil Scarecrow on this DVD. Like the festival lineup itself there's a good mix of bands of various genres, so the chances are there will be a few songs you're not keen on along with a load that you'll enjoy. Like a festival lineup there's usually stuff from bands you haven't listened to so it's a good way to hear some new stuff.
Headcat, the band formed by Lemmy, Slim Jim Phantom (Stray cats) and Danny B. Harvey (Rockats) had gone on hold after Lemmy's death but are now joined by David Vincent (Morbid Angel) and at Wacken paid tribute to Lemmy with a track called "Born to lose, live to win". The organisers also paid tribute to Lemmy by making the Wacken hymn this year a cover of David Bowies "Heroes" – a song that Lemmy had recorded for use on a Motorhead album. After you hear the organisers introduce the song, hearing the chants of Lemmy, Lemmy is great, but then having 60,000 metalheads singing along in tribute to Lemmy is a special moment to watch on DVD – and I suspect is one that fans who were there at the time won't forget any time soon.
As always, the Wacken team have released an excellent compilation that gives a really good taster of what Wacken is all about. Forty-five tracks on the DVD, 29 on the CDs – that's a lot of music for your money and as already stated, the quality of the audio is superb, and their multi-camera live footage never disappoints either.
DVD 1:
1. EUROPE – War Of Kings
2. EUROPE – Nothin' To Ya
3. UK SUBS – Disease
4. ACCEPT & ORCHESTRA – Breaker
5. NAPALM DEATH – How The Years Condemn
6. JET JAGUAR – Hunter
7. WITCHERY – Witchkrieg
8. E-AN-NA – Sârba Ciobaneasca
9. INFERUM – Rotten King
10. NILE – In The Name Of Amun
11. KADAVAR – Doomsday Machine
12. EVIL SCARECROW – Space Dementia
13. CLAWFINGER – Recipe For Hate
14. SONATA ARCTICA – The Wolves Die Young
15. THE AMITY AFFLICTION – The Weigh Down
16. SALTATIO MORTIS – Wo Sind Die Clowns?
17. STEAK NUMBER EIGHT – Your Soul Deserves To Die Twice
18. PARADISE LOST – Embers Fire
19. PRONG – Divide and Conquer
20. APOCALYPTICA – Master of Puppets
21. APOCALYPTICA – Nothing Else Matters
22. SACRED REICH – Death Squad
23. CANDLEMASS – Dark Are the Veils of Death
DVD 2:
1. ASP – Ich Bin Ein Wahrer Satan
2. ASP – Ich Will Brennen
3. KRYPTOS – Full Throttle
4. TURBONEGRO – Hot For Nietzsche
5. MAX & IGOR CAVALERA – Ratamahatta
6. MAX & IGOR CAVALERA – Roots Bloody Roots
7. RAGE – Spirits Of The Night
8. TANKARD – Rapid Fire (A Tyrant's Elegy)
9. RUSSKAJA – Traktor
10. TWILIGHT FORCE – Riders Of The Dawn
11. KÄRBHOLZ – Evolution Umsonst
12. HEAVEN SHALL BURN – Voice Of The Voiceless
13. HEAVEN SHALL BURN – Counterweight
14. HAMATOM – Wir Sind Gott
15. HEADCAT – Born To Lose, Live To Win
16. ULI JON ROTH – In Trance
17. AVANTASIA – The Scarecrow
18. KREATOR – Satan Is Real
19. KREATOR – Violent Revolution
20. FIT FOR AN AUTOSPY – Black Mammoth
21. SUBWAY TO SALLY – Sieben
22. WACKEN FAMILY CHOIR MIX – Heroes
CD 1:
1. EUROPE – War Of Kings
2. UK SUBS – Disease
3. ACCEPT & ORCHESTRA – Breaker
4. NAPALM DEATH – How The Years Condemn
5. JET JAGUAR – Hunter
6. WITCHERY – Witchkrieg
7. NILE – In The Name Of Amun
8. KADAVAR – Doomsday Machine
9. SONATA ARCTICA – The Wolves Die Young
10. SALTATIO MORTIS – Wo Sind Die Clowns?
11. STEAK NUMBER EIGHT – Your Soul Deserves To Die Twice
12. PARADISE LOST – Embers Fire
13. PRONG – Divide And Conquer
14. APOCALYPTICA – Nothing Else Matters
15. SACRED REICH – Death Squad
16. CANDLEMASS – Dark Are The Veils Of Death
CD 2:
1. ASP – Ich Bin Ein Wahrer Satan
2. TURBONEGRO – Hot For Nietzsche
3. MAX & IGGOR CAVALERA – Roots Bloody Roots
4. RAGE – Spirits Of The Night
5. Kärbholz – Evolution Umsonst
6. HEAVEN SHALL BURN – Voice Of The Voiceless
7. HAMATOM – Wir Sind Gott
8. HEADCAT – Born To Lose, Live To Win
9. ULI JON ROTH – In Trance
10. AVANTASIA – The Scarecrow
11. KREATOR – Satan Is Real
12. SUBWAY TO SALLY – Sieben
13. THE WACKEN FAMILY CHOIR MIX – Heroes
A great CD/DVD release - excellent sound and video with a great selection of songs from a good cross section of bands who played Wacken 2017. Available as MP3, or CD/DVD