Since forming in 1986, it seems ok to label Virus a veteran thrash metal band and after all these years, they are still raging away like lunatics, point proven by current album Evilution Apocalypse, released via Combat Records.
They like to stretch these songs out, many of which are over the five minute mark but my attention never wavered due to the high level of musicianship.
Album opener and title track features a guest spot from Thom Hazaert (intro solo and vocal on second verse from Combat/Dave Ellefson Band). The lengthy eerie intro gives way to vociferous clatter of potent thrash that blasts away with aplomb. Warp speed rhythms are breathtaking. It slows down briefly midway until all hell breaks loose again with fiery fretboard work and gang like vocals hammer their point home.
'The Hand That Feeds You' is a full on ravaging rager propelled by a savage drum battery from the fast feet of Mike Devlin. Riffs writhe and churn, guaranteed to open up a mosh pit. When the band all lock in it's like being in the eye of a storm.
'Basement Conversion' is a creepy number, telling the tale of Joseph Fritzl. Musically it's a race to the finish line of buzzsaw riffing and inhuman snare work. A mauling midway mosh crunches hard and heavy.
'Goat (Father, Scum and Unholy)' is a savage attack that brought to mind early Exumer. Staccato rhythms are like a musical shockwave as lead vocalist Coke Finlay delivers like a drill sergeant as it closes on a blazing blur.
'Multiple Wargasms' is a gripping gallop that heads off after a grinding intro. Razor sharp riffs slash and thrash over a vitriolic vocal that highlights the futility of war.
More interesting lyrics come from 'Thrashville' that highlight of how old school 80's thrash metal still stands tall in the present day. It's a way of life for us, not a passing fad as I used to trade audio tapes Worldwide in the early 80's. Musically it's a foot to the floor tarmac burner.
'Defective Detective (The Ballad Of Inspector Gadget) brings a few moments of tongue in cheek humour. It's a slow starter but still brick heavy. A quirky midsection of stop/start rhythms see it head off into a fast and furious finale.
'Mass Bacteriological Genocide' has a Suicidal Tendencies tinged chanted intro as catchy thrash grooves and a lung busting lead vocal give way to violent vehemence velocity.
More melodic thrash is served up in 'Force Recon'. It's chock full of earworm hooks until the band see red and rage away like an angry bee hive.
'Release The Dead' is one last assault to the senses. If this was on vinyl I would have to check my turntable speed to make sure it was not set to 75rpm due to the ridiculously fast time changes they seem to pummel out with ease. Headphones are a must so as to fully appreciate every twist and turn. A strong end to an absolute banger of an album!
Virus band line up :-
Mike Devlin – Drums.
Stewart Grassie – Bass guitar.
Rob Edwards – Rhythm guitar.
Coke Finlay – Lead vocals/lead guitar.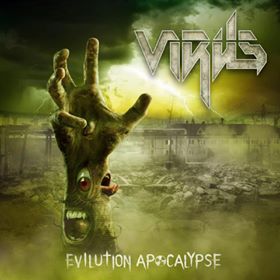 Evilution Apocalypse album track listing :–
Evilution Apocalypse.
The Hand That Feeds You.
Basement Conversion.
Goat (Father, Scum and Unholy).
Multiple Wargasms.
Thrashville.
Defective Detective (The Ballad Of Inspector Gadget).
Mass Bacteriological Genocide.
Force Recon.
Release The Dead.
Links to the band can be found below :-
Catch this dose of thrilling thrash metal from Virus!