I had first heard about Vintage Trouble through mutual friends and contacts in other band fan groups I had become involved in. After looking at their material and videos on YouTube and seeing how they perform live I was hooked and really looking forward to the day I could see the energy and fantastic vibes from these guys for myself, and tonight was the night! As well as review duties for the night, I also had the pleasure (and displeasure) of doing photography duties. For the first three songs I could not concentrate on all aspects of the performance from an audience point of view, as I was by the stage and only looking at what I was shooting through the lens!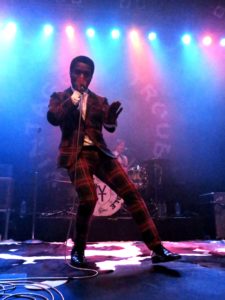 There was no opening band for
Vintage Trouble
tonight. The guys just came on and got stuck straight in. With Vocalist
Ty Taylor
, Guitarist
Nalle Colt
, Bass man
Rick Barrio Dill
all huddled together and facing
Richard Danielson
on drums at the start. They play the first few dirty bluesy riffs of opening song "
Low Down Dirty Dog
". Ty was wearing a predominantly Black and Red tartan suit for this Scottish occasion, and the rest of the band members wearing nice grey suits, complete with waistcoats and hats that wouldn't look out of place at a wedding. My they impressed right from the start. With Nalle and Rick both gently moving and grooving to the rhythms and Ty using up a lot of the stage with some nice moves of his own. Ty does know how to work the crowd with his slick moves and verbal acknowledgement of the energetic Scottish crowd. Second song "
Pelvis Pusher
" was one I was looking forward to seeing most. The band were tight and this song just grooves and funks along. I was facing forward and didn't see much of the crowd for this one but I can imagine a lot of the crowd dancing and pushing their pelvis along with Ty. This is a very fun song. Ty even gets the crowd singing along with "
1,2,3, push your pelvis with me
". One thing that quickly becomes apparent is that this band brought me back in time. Ty looks and sounds like he belongs in the 50's and 60's era of soul and blues rock and roll, mixed with some gospel. I have never seen any band like it before in my life which makes
Vintage Trouble
unique these days, to my eyes.
One more song "You Better Believe It" had me take my final snaps before the venue security had me take my camera downstairs to the box office for the remainder of the set. I didn't want to miss anything tonight but this wasted several precious minutes of time and when I returned for fourth song "Strike Your Light", this had already been in full swing. I could see most of the Packed O2 ABC crowd kneeling down on the floor while Ty had them singing some more with an infectious rock and roll groove.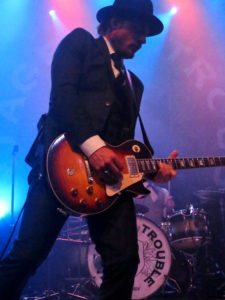 It's a shame I missed this one. It seemed the show was in full swing by now and another song from their "The Bomb Shelter Sessions" album I was looking forward to hearing live "Run Outta You" is played. This slows everything down just a little and is a fantastic blues number. From this song I can see and hear how much of a great blues guitarist Nalle Colt is. With a nice long blues solo as Ty takes a step back a bit to allow Nalle to shine here. This guy can really play! This song also had lots of audience participation as Ty had everyone singing "running out on you" with muted instruments. It was a nice intimate moment and one of many highlights of the show for me.
Another Bluesy Rock and Roll number "Nancy Lee" has Ty beaming throughout with that infectious smile I could also see on the faces of everyone else in the venue. Before this song Ty gives us a little chat about his parents meeting in the 1950's in a sweaty little room in North Carolina, and that his dad never wrote love songs. Ty tells us that if his dad could write love songs it would sound sort of like this song. Ty does like to chat to the audience in between songs, and brings with it a great sense of humour. At the end of the song Ty did say to the Glasgow crowd, "It feels good to be here. I wore plaid in your honour today, but I admit it feels good. I would have got a kilt too except for I got skinny legs and I didn't want to show ya'll that".
Ty talks about not only are parents inspirational to make us become good people, but there are musicians that came before them who have inspired them to make music. "What happens is that you start writing songs. You start thinking that your songs are not the only songs you want to play. Sometimes you got to combine the idea of where you came from and who you are and the best part about it is that it ends up feeling like your doing a duet or having two bands play together that might not get to play together. You know, the things that they created you get to put into your body. One of the people who inspired us is a man named Joe Tex. I got ya!"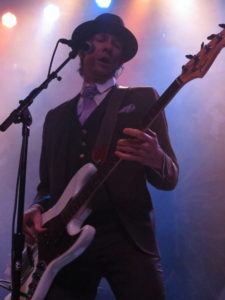 We are then treated to a quite remarkable cover of Joe Tex's "Show Me". This has pure Rock and Roll grooves and had everyone shouting "Show Me" after Ty encouraged the crowd to repeat it after him.
Ty addresses the crowd afterwards, that they had an amazing year, and they wanted to come over to bring their music to Europe and the UK first and then bring it back to America, like the Stax/Volt Records tour in 1967. (Stax and sister label Volt were a major factor in creating Southern Soul and Memphis soul music styles at that time, along with Gospel, funk, jazz and blues recordings. Originally based in Memphis, Tennessee) Ty informs us that during the spring, they had a wonderful opportunity to record and write with one of the major contributors of that label, the multi-talented artist/producer of that time, Booker T. Jones. Booker has an album coming out "Sound The Alarm" on the 25th of June. Vintage Trouble have a song on the album.
Ty gives a long speech about the band and fans that collectively are affectionately known as the "Troublemakers". Not that they are all out to rebel and cause trouble and curse. They are a voice to cause good friction in the world to make a little change for the good, a little trouble in people's lives. A lot of people sit at home and stay quiet. They argue inside and don't speak out, or don't voice their opinions or stand up for what they believe in. "The Troublemakers got to let people know it is not their job to be quiet. It is their job to speak out about what they believe in. It is their job to get away from the computer, get their face out of texting. Talk to each other. Talk about what they are feeling. We want tomorrow to be better. What's most important is that you say something." This leads us into the song "Not Alright By Me", and now an acoustic set up with stools on the stage for the band members. I was informed afterwards by a Vintage Trouble veteran who is close to the band, that this was the first time he believes they had done an acoustic set before. This song suited this style and brought the pace down a bit. It had everyone singing along and clapping. There was a beautiful moment towards the end of the song where everyone joined in singing the "Oooooooh's" repeatedly without the guitars and just drums, and this continued after the song ended. There was time for another acoustic number "You Save Me". This had Ty showing us he does have a huge set of lungs, and held a very long vocal note beautifully here. I could also see Ty was not used to sitting still on a stool for a while. The guy was itching to get up off the stool and dance!
Now the highlight of the night was the song "
Jezzabella
". Lots of crowd interaction all the way through this, especially during the singing of the "
woohoo's
" and "
Jezzebella
". This song has a smooth rock and roll groove and had the room moving and shaking along to it. Ty had everyone turn around from the stage and dance with each other, bringing the lights on in the room. Ty was great at orchestrating the mood and energy, and had the room slowly turn towards the stage. Everyone started singing as one. This song ran on and on and just as you think its about the end Ty asks us do we want to get crazier and jumps off the stage to perform right in front of the security Barrier for a couple of minutes, and raps with the audience wonderfully. The audience erupts after this and you think its about to end again until Ty asks "
Do you want to get dirtier?
" Ty this time goes over the barrier and into the audience itself on the main floor, moving deep into the middle of the room. He then moves to the wall barrier which separates an upper level to the main floor area, and stands on the ledge of this wall. It was astonishing to see and really electrified the place. This was the peak of such an electrifying set. Couldn't get any hotter than this surely? Ty makes his way back to the stage and again the packed ABC erupts. Magic stuff.
We are introduced then to a brand new song "Before The Teardrops", and this very much had a late 50's swing feel to it and just in case you couldn't picture it, Ty sets the scene for us. Describing that if not here with us in Scotland, "The only other place we would rather be is in a late 50's Juke Joint drinking illegal Moonshine instead of Vodka and Redbull. All the ladies would be hanging from some rafter with their legs swinging, and the guys would find some reason to be under that rafter looking up checking the paint job". I do love Ty's sense of humour! Next came a song where the band had filmed a video for on the shores of Loch Ness, "Run Like the River". This had a very infectious foot stomping rhythm all the way through it with some slide guitar, which had people clapping throughout. There was audience participation again with the singing as people sang "Run baby run". Ty again moved into the middle of the audience for this one and a wide circle was created around him with people clapping and dancing like it was party time. I have heard this being referred to as a Soul Pit. The room was smoking hot at this point and you couldn't help but get into the fun mood here. This was another highlight for me and the crowd went wild at the end.
Ty introduces the band when back onto the stage, and explains that they will hang out after the show. Signing stuff and shaking hands. Also they would go share a few drinks in a nearby bar. A new
Vintage Trouble
2 DVD set that is coming out is advertised, one disc is a documentary of the past couple of years in where the UK and Europe have accepted the band, and a second disc that is
Vintage Trouble
live in Glasgow. The crowd applauded this and the set ends with the brilliant "
Blues Hand Me Down
". What a fantastic night.
The band goes off stage briefly and return to do a two song encore beginning with the sweet soul ballad "Nobody Told Me". This had the place chilling and singing along to the chorus before finishing with "Total Strangers". This is very much a Rock and Roll song with a slightly harder edge to it. Its one where the crowd could sing along to the "na na na na na na na" elements to this song, and the sparks were flying for the finale as everyone joined in when Ty got us all to sing and clap their hands. What a fantastic 1 hour and 50 minutes that was. It all flew by so quickly.
So there you have it. Vintage Trouble again brought their blend of soul, blues and Rock and Roll to the very much entertained Glasgow audience and I would defy anyone who said that they never had a good time in the O2 ABC tonight. It all felt like one giant fun party that everyone was invited to, like we were the fifth member of Vintage Trouble. Every song had participation and the "Troublemakers" didn't need much encouraging. The music and the band members seemed very real and honest. Bass player Rick Dill could move and groove all night and along with super drumming from Richard Danielson, they kept things tight for the rhythm. Nalle Colt is a fabulous guitar player, adept with infectious rock and roll riffs and a super blues guitarist. Ty is just infectious. He gives you the impression of a naughty schoolboy who has been let loose when he performs. Ty breathes Soul and blues with a fantastic voice, and loads of rhythm. He sure can move and uses up all the stage along with other parts of the venue too! Ty has a massive stage presence and is so full of energy. He really is quite a character. You can see his influences as he performs, Tina Turner, Otis Redding, and a lot of the old soulful greats of days gone by. I am a sucker for great soulful vocalists! Vintage Trouble have this infectious unique style that not many other bands posses these days and if you haven't seen Vintage Trouble yet, please make a date in your diary to go see them near you when you can. I promise you will have one of the gigs or parties of your life.
It is a shame the night ended but it had to end sometime. The next few hours had me spending time with the band and other "Troublemakers", but that is another story….
Vintage Trouble Setlist
1. Low Down Dirty Dog
2. Pelvis Pusher
3. You Better Believe It
4. Strike Your Light
5. Run Outta You
6. Nancy Lee
7. Show Me
8. Not Alright By Me
9. You Save Me
10. Jezzebella
11. Before The Teardrops
12. Run Like The River
13. Blues Hand Me Down
Encore
14. Nobody Told Me
15. Total Strangers
Photos by Robbie Rooney
Visit Vintage Trouble at:
www.vintagetrouble.com
www.facebook.com/vintagetrouble
www.twitter.com/vintagetrouble