VAMBO debut album review
Vambo delivers a mix of psychedelic blues 70s infused rock with a modern twist with their debut album Vambo.
Lead by Jack Stiles, the sultry vocalist gets you into their groove with a stack of songs about women. Whether it was intentional or not there seems to be a good portion of their self-titled debut album dedicated to women, good, bad or otherwise.
Perhaps the London based quintet had planned or just simply put their heads together after being love-struck or had a number done on them?  But their musical prowess on Vambo delivers a plethora of songs with an underlying theme about women; from the mysterious, sexy, dark, to the unforgettable, moody and devil women. In the words of Def Leppard, Vambo brings you, 'Women!!'
You won't be drowning in your tears as the ambience of Vambo flows smoothly along with the tempo of the lyrics. Gliding along with ease, you have everything from melodic riffs to dramatic guitar solos that give rise to well-paced drums;  nothing is overdone and the album produced by Ray Stiles is done with a cool swaggering style.
Selected songs overview
From opener Now You See Me, you get the vibe of  Vambo, they are a heady mix of old school style blues-rock with a dash of 70s nostalgia.  Vambo-ing it up on the foxy We're Not The Same, there's a heavy presence of  Sabbath-esque rock. Stiles high pitched vocals are perfectly blended with Scott's deep bassline and are everything you expect from a band going for the feel of a 70's hard rock groove.  With comparisons made about the band to the likes of Deep Purple and Gary Moore, you can hear why.
Dancing with the Devil has to be one of the standout tracks, with a rousing feel of the Scorpions mixed with Cinderella; this dreamy track has all the right assets, from the smooth guitar solos to Stiles hypnotic vocals.
Vambo is coming for you!
Pulling the hard blues rock card on the sassy Down Little Mamma it teases you nicely along with its rhythmic beat, and Vambo seems to have all their own influences on this number.
Taking the production up a few notches on the well-orchestrated Running in Circles. The opening riff reminds me of Don Henley's The Boys of Summer.  The steady drumbeat carries this song and gives way to an epic guitar solo towards the end, it's not quite Gary Moore's Parisienne Walkways but it's blistering and the vocals just hit the spot! It's the kind of song you can imagine playing as the credits roll at the end of a feel-good film.
Faster than a snake, kings of snakes? Vambo Roolz is a great self-describing song and why not have a song to describe your band;  so look out, cause Vambo is coming for you!  Revving up their engines Vambo bring you closing track Fast Car, so buckle up and enjoy the ride.
Taking you on their epic rock and roll ride of hard blues-infused '70s infused rock Vambo deliver a great debut album!!
Vambo Tracklisting:
Now You See Me
Why Why Why
Cry Woman
We're not the Same
Dancing with the Devil
World of Misery
Down Little Mama
Running in Circles
Camouflage
Vambo Roolz
Fast Car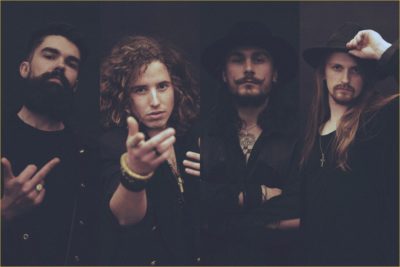 Useful links to Vambo:
https://twitter.com/vamboofficial
Vambo is coming for you! Taking you on their epic rock and roll ride of hard blues-infused 70's rock buckle up and enjoy the ride