"VAMBO DELUXE" DEBUT ALBUM NOW INCLUDES 5 BONUS TRACKS
RELEASED FRIDAY 6TH NOVEMBER 2020
PRE-ORDER THE ALBUM
FEATURING THE NEW SINGLE "FAST CAR"
RELEASED FRIDAY 2ND OCTOBER
PRE-SAVE THE SINGLE
Vambo's swaggering and powerful self-titled debut gets the deluxe treatment when it is re-released on Friday 6th November as "Vambo Deluxe" – featuring five bonus tracks. The single "Fast Car" is released on Friday 2nd October and is available to pre-save HERE.
The album is released by Goliath Records, via Universal Music and is available to pre-order HERE. The five bonus tracks include "Paradise", "Mistaken Identity," "Total Jeopardy," "Dancing with the Devil (Acoustic)" and a live recording of the Deep Purple classic "Burn."
With the addition of their four scintillating new tracks and an exuberant and relentless rendition of one of rock's great classics, their imaginative artistic style is entirely and unmistakably in the present. Their ability to travel from mighty Purple-esq power to the sheer beauty of an acoustic version of ''Dancing with the Devil'' – one of their own power ballads, is outstanding. Vambo have a style and quality that keeps us guessing as to what they'll come up with next. From this offering, it's plainly evident that they live without fear in their musical outlook, never shying away from the challenge, providing us with an array of surprises which is both unexpected and refreshing.
Vambo were recently featured in Classic Rock Magazine in their High Hopes spread. The debut album is steeped in sharp musical intelligence and finds the band in full creative tilt delivering hard-hitting, re-tooled classic rock with a contemporary edge.
Vambo are no strangers to the live circuit. They played Download Festival and Isle of White Festival in 2019, and they will be touring the UK with Praying Mantis and Cats in Space in 2021.
The album is produced and mastered by Ray Stiles (MUD, The Hollies), and perfectly encapsulates Vambo's live energy and relentless drive.
This musically diverse album features wonderfully crafted songs full of rock 'n' roll attitude. It kicks off with the band's debut single – Now You See Me, which sets the tone for the whole album. The album includes the Planet Rock radio playlisted singles – Why Why Why, an explosion of anthemic goodness, and World of Misery, which will entice the listener from the very first hearing.
"We take our inspiration from early 70s hard rock, but we keep our interpretation contemporary – inspired but not copied," says the bands frontman and lead singer, Jack Stiles. "We are very big on melody and dynamic, not just shredding guitar solos and 'check out how fast I can play the drums'. We aren't that political, our lyrics aren't super deep and metaphorical, but we can rock as good as anybody. No song on this album is the same… that would be boring."
Blurring the line between sincerity and audacity, the album bristles with conviction and power ballad Running in Circles is a rock anthem in the waiting. Every one of these songs is a master class in how to write melodies that pull at the heartstrings, without compromising their balls-out instincts. Combined with Pete Lance's fearsomely virtuosic metallic riffing, the solid pile driving rhythm section of James Scott (bass) and Steve Price (drums), and Jack Stiles' versatile, soulful voice, ensures that Vambo Deluxe is a colossal and essential album.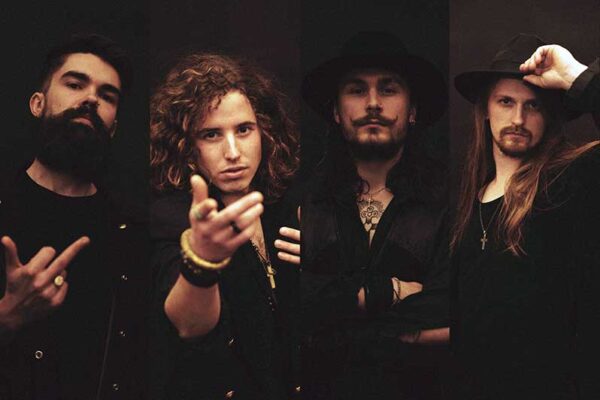 "The writing process was fairly straight forward," explains Jack. "We found things in our lives we wanted to talk about. Some stories are completely fabricated, others are taken from our own experiences and some just sound good. It's usually a case of Pete and I getting together in the studio, and Pete will start playing, when something comes, you know it, and you go from there. The idea may have just come on the spot, or sometimes we will develop an idea that we picked up from something we heard. We get the riff, work out a verse pattern, bridge and chorus, then I'll take it away for a few days and work on the melody and lyrics."
"Once we have the basic format for what will be the song, we'll take it into rehearsal with the band, fine tune it and turn it into a song. The recording of the album was done almost completely 'in the box'. We have recorded these songs so many times over the past couple of years, but as we play live, the songs become stronger, parts become more fluid and so we re-recorded – it's hard work, but if you want something you are happy with, it needs to be done."
"It's been a back and forth process, many, many hours spend in the studio getting it 'right', if there's even such a thing. There is a photo of a cobwebbed skeleton sitting in front of a mixing desk with the caption ''when the mix is almost perfect'' – that pretty much sums up the entire process of this album."
Vambo have produced a hugely appealing, simultaneously intricate and infectious debut album, and with the addition of 5 new tracks, Vambo Deluxe deserves your attention. Vambo believes and understands rock music can be an unalloyed pleasure, and in their own words: "Enjoy our album, we've put a lot of hard work into it."
Vambo is an enabling vision and unequivocal triumph. It sets the stage for what promises to be an even bigger 2021. Says Jack, "As musicians we've grown from where we first started. I like to feel we have always been good at what we do, but as time goes on, the universe unfolds, and so do we. The more we play together, the better it gets."
"We all have bad shows and days, but we have developed as musicians. As individuals, we may not be the most technically proficient in the world, or the best at our chosen instrument, but when we come together, it's something special. For me personally, I have developed as a songwriter and musician."
"Each member of Vambo comes from a completely different background within music. So, we all bring something different. I've grown up listening to rap music, Pete has been a rocker since the day he was born, when he came out of the womb, he was a rock. James grew up listening to super death hardcore tech metalcore screamo music, so we don't usually involve him in many of the band conversations. Steve is a technician through and through, one of the best electricians I've ever met, highly recommended. But seriously, he grew up with Iron Maiden, he loves everything, and loves learning about all styles of music."
Vambo are not your run-of-the-mill generic rock band. They believe their songs have commercial value, but at the same time, they don't take themselves too seriously. The band admit there are a lot of good players out there right now, but they do not want to sound like everyone else; they want to sound like Vambo.
"We want every song on our album to be different, to keep the listener interested, so they don't quite know what's round the corner," concludes Jack.
VAMBO DELUXE – TRACK LISTING:
1. Now You See Me – 3:41
2. Why Why Why – 3:22
3. Cry Woman – 3:46
4. We're Not the Same – 3:41
5. Dancing with the Devil – 4:00
6. World of Misery – 3:54
7. Down Little Mama – 3:22
8. Running in Circles – 4:46
9. Camouflage – 3:01
10. Vambo Roolz – 3:53
11. Fast Car – 3:06
BONUS TRACKS:
12. Paradise – 3:54
13. Mistaken Identity – 4:06
14. Total Jeopardy – 4:10
15. Dancing with the Devil (Acoustic) – 3:44
16. Burn (Live) – 6:16
VAMBO ARE:
Jack Stiles (vocals)
Pete Lance (guitar)
James Scott (bass)
Steve Price (drums)
All tracks produced by Ray Stiles at Orchard Studios
All tracks mixed by Ray Stiles and Jack Stiles at Orchard Studios
All tracks mastered by Ray Stiles at Orchard Studios
Watch 'Why Why Why' HERE  | Watch 'Now You See Me' HERE | Watch 'World of Misery' HERE