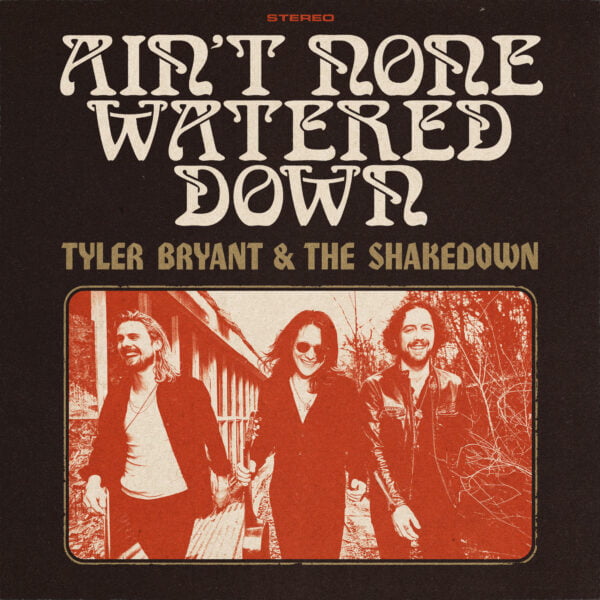 Shake The Roots, the fifth studio album from Tyler Bryant And The Shakedown has just been released via their own record label Rattle Shake Records since leaving Spinefarm Records for more control of their music. Frontman Tyler Bryant formed his first band at 15 and moved to Nashville, Tennessee in 2008, releasing their first EP My Radio.
The band have come a long way to the present day, sharing stages with AC/DC, Guns And Roses, Aerosmith, Jeff Beck and many more as these 12 tracks impress highly opening up with 'Bare Bones'. It's finger picking good of three minutes of a vocal dipped in Jack Daniels and slide drenched barroom boogie, earworm tambourine and doo wop handclaps.
'Ain't None Watered Down' is the first single taken from Shake The Roots and it wears its battle scars on a chorus of "Give me a jar of that Lightning Strike, I like my love like a barroom fight, ain't none watered down. Got the tail of a tiger, you can't change the stripes, double the trouble at just half the price". A seismic drum pound is like a beating heart and a drawled vocal adds a touch of menace, especially in the boisterous choruses.
'Ghostrider' is fuzzy riffed stoner rock of the highest order as they shook my headphones and a shout of "Now ride" precedes a fretboard melting guitar solo.
'Roots' seems to portray Tylers musical roots with lyrics of "Learned to swim in muddy waters, learned to walk on rolling stones". Delivered on a bluesy snarl, it picks up for beautiful choruses and more so for a full on band outro.
'Hard Learned' gave me vibe of old Western films as it strolls along on a dusty prairie of a hushed vocal, sparse guitar chords and touches of gospel.
'Shackles' is another slow one, so slow it's like trudging through a swamp as the riffs claw at your soul to bleed every last drop of emotion out of you, as does the raw vocal delivery, ending on a crushing outro.
'Off The Rails' is a rock and roll train ride that wears its AC/DC influences on its sleeves for a first class journey to headbanger heaven. The riffs take no shit for an adrenaline rushed three minutes of maximum overdrive.
'Good Thing' is not just a good thing, it's also a spotlight stealing one. A gently picked intro and a sultry vocal lead towards a steady pound for a no frills song to make for my album highlight!
The riffs throughout 'Sell Yourself' jab like a prizefighter as words of warning lyrics are delivered like a wheeler dealer!
Feel good grooves are smile inducing throughout 'Tennessee' as the lyrics soar around the heartfelt vocal as Tyler champions Nashville, Tennessee.
'Sunday No Show' is a rowdy romper stomper as it blazes a fiery trail of sleazy slide guitar and hellraising lyrics of "Don't tell the preacher I've been sinning. I took the apple and then I bit it. Beyond the garden where the woods grow, I need forgiveness, Sunday no show".
The album closes on 'Midnight Oil' which gave me hints of Johnny Cash as this raucous dance floor filler cuts a rug on country tinged rhythms as it ends on an outrageous guitar solo!
Purchase links to the album and other band info are here :–https://linktr.ee/Tbshakedown I https://www.facebook.com/TylerBryantAndTheShakedown I https://www.instagram.com/tbshakedown/https://twitter.com/tbshakedown Ihttp://www.tylerbryantandtheshakedown.com/ Ihttps://www.youtube.com/channel/UCcRpaZU2DAU_ObJzD_ATUZA
Shake The Roots album track listing :-
Bare Bones.
Ain't None Watered Down.
Ghostrider.
Roots.
Hard Learned.
Shackles.
Off The Rails.
Good Thing.
Sell Yourself.
Tennessee.
Sunday No Show.
Midnight Oil.
Tyler Bryant And The Shakedown band line up :-
Tyler Bryant – Lead Vocals/Guitar.
Caleb Crosby – Drums.
Graham Whitford – Guitar.
Shake your hips down to their roots as Tyler Bryant And The Shakedown release their Shake The Roots album on Rattle Shake Records!