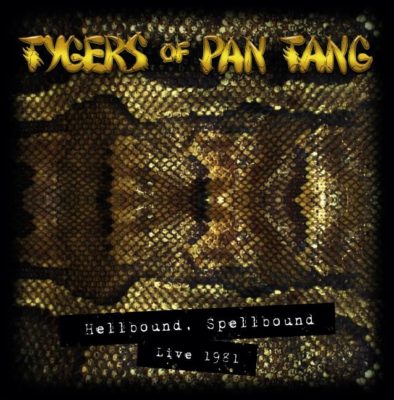 Nostalgia can be a good or a bad thing with some bands but this is not the case for Tygers Of Pan Tang with Hellbound, Spellbound (Live 1981), a gem of an album recorded at Nottingham Rock City.
It reaffirms my opinion that the NWOBHM movement was best represented in the North East as the Tygers were formed in Whitley Bay 1978 with Robb Weir (the only original member of the band) still flying the flag by currently keeping the band touring and recording. Originally recorded by the sadly departed Chris Tsangarides (who produced their debut album Wild Cat), it has been remixed and remastered by Soren Andersen and it's that good it is now in my top five albums of all time. This was the first tour featuring Jon Deverill on lead vocals (who replaced Jess Cox) and John Sykes also joined to make a formidable twin guitar line up with Robb.
Released via Mighty Music and only the second gig on their headlining tour, the fifteen song set goes straight for the throat as 'Take It' (one of nine tracks played from the Spellbound album) sees Jon in fine voice over aggressive riffing and lightning speed guitar solos. 'Rock 'N' Roll Man' (one of six from Wild Cat) is gritty hard rock through and through. Tempos are upped for 'Blackjack' as the riffs shift up a gear and the first solo is real fretboard burner. 'Tyger Bay' sees the twin guitars at their finest as they weave around a powerful bass and drum pound from Rocky and Brian Dick. 'Insanity' hurtles along at breakneck pace, highlighting the strength of Wild Cats with a heavy snare drum driven midsection. There is no pause for breath as they tear into 'Euthanasia with aplomb and the resulting crowd noise shows there are no overdubs here. 'Mirror' is a hairs up on the back of the neck song as a vocal tour de force intro backed by sparse guitar lines that heavy up to turn it into a majestic power ballad.
Not only does Robb introduce Jon to the crowd, he takes on vocal duties with a snarl on 'Wild Cat' that still sounds fresh after all these years. 'Money' is feel good rock and roll, no more, no less. 'Don't Stop By' is a heavy take on the studio album version and that ire carries on as 'Gangland' flies out of the traps with speed metal vigour. 'Silver And Gold' is introduced poignantly by "Some people have too much, some people have not got enough and very few of us are inbetween'. With this song the set increases to another level. 'Hellbound' (the first single taken from Spellbound) begins with THAT riff as solos rage throughout its course. 'Slave To Freedom' (still my favourite from Wild Cat) never fails to astound and the lead solo still makes me feel the same as when I first bought the vinyl and their breathtaking set ends on a turbocharged cover of the Small Faces classic 'All Or Nothing'.
I'm not one for quoting press releases but they make a rightly so bold claim of "Are you ready for one of the best live recordings ever done by a rock band?" and Robb chips in with "Like a well matured whisky, it's taken thirty eight years for us to fine tune it for you to hear this at its very best so sit back, turn up the volume and immerse yourself in Tygers Of Pan Tang style hard rock circa 1981".
Links: 
How all live albums should sound as the Tygers sharpen their claws and make you feel like you are in the front row.