Twisted Tales are a Serbian Thrash / Metal band releasing this their 2nd studio album. It's actually very good, if a little naive in places, but it's hindered by timing issues which we'll come to shortly.
You can tell straight away who influences these guys. The guitaring is heavily influenced by Metallica, and vocal-wise it's very Celtic Frost. Mix these two bands up and you have Twisted Tales.
It's starts well, a nice interlude in the form of 'Snake Eyes ', which takes us to 'Bringer Of Woe '. Now before I start preaching about timing issues, let's get one thing straight. These guys can play, and play bloody well. But this potentially great album is scattered with timing issues. 'Bringer Of Woe ' suffers first, although a great track. 'Bittersweet Sorrow ' demonstrates the band's power capabilities in a significant way.
'Father ' sounds like it's been pulled from 'And Justice For All… ' which is great, because it's my favourite Metallica album hands down. This track has an intense ending and is a cracker. 'Slow Down ' cranks up the speed to be the heaviest and fastest track on offer so far.
The guys have chosen a specific path with this genre, but the way the tracks are structured and presented will no doubt lure fans of other genres towards the band, purely for their intensity and power.
'Human ' unfortunately suffers from timing issues on the faster sections which is a shame. The beginning of 'Sheol ' is very similar to Anthrax's A.I.R from the classic 'Spreading The Disease ' album. 'Trapped Under Glass ' again holds timing issues but this is actually a great song with some really clever riffing involved.
Overall this has the potential to be a great album and with a bit of TLC I think this band could go places. Listen to the full album on the video link above.
Track List:
1 – Snake Eyes   /   2 – Bringer Of Woe   /   3 – Bittersweet Sorrow   /   4 – Father   /   5 – Slow Down
6 – Open Eyes And See…   /   7 – Hellfire   /   8 – Human   /   9 – Sheol   /   10 – Trapped Under Glass
11 – Misanthropia   /   12 – Before I Go To Hell And Burn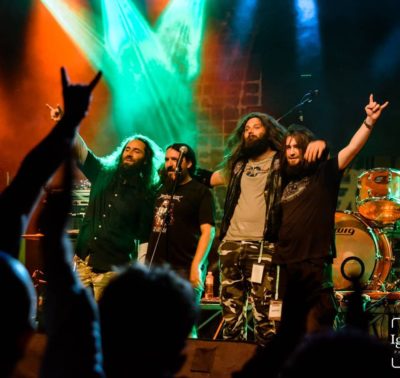 Line-Up:
 Ljubiša Đorđević – Vocals and Rhythm Guitars   /    Miša Milovanović – Lead Guitars
Stevan Dinić – Bass   /   Nemanja Velicki – Drums
Links:
Release date: 20/09/19. Album length: 58mins 53secs. Good old fashioned thrash metal.