Hot off from winning Hard Rock Hell's "Blues Artist of the Year" award and having his album The Wings of Salvation featured in Rock and Blues Muse's" Top 25 Albums of 2022," British slide guitarist and singer-songwriter Troy Redfern is pleased to announce the release of his brand-new single The Fever on Wednesday, January 11, 2023.  The Fever will appear on Troy's forthcoming album due for release later in the year.
Stream & download The Fever from https://distrokid.com/hyperfollow/troyredfern/the-fever.
The new single follows the news of Redfern's co-headline April 2023 UK Tour with The Commoners. Tickets are available via Planet Rock's 48-hour ticket pre-sale from 10 am on Wednesday, January 11th. 
Click here for pre-sale tickets – http://www.gigantic.com/the-commoners-/-troy-redfern-tickets-presale-8488.
Tickets go on general sale on Friday, January 13th from https://troyredfern.com/dates.
Redfern has wasted no time since the release of the last single from his criticality acclaimed album The Wings of Salvation. In December, after the success of playing two storming sets at Planet Rock's Rockstock Festival, Troy headed back into the studio with the same dream team that made his critically acclaimed album The Wings of Salvation such an authentic success.

The Fever is produced by Dave Marks (who also plays bass), and features Paul Stewart (The Feeling) on drums. The single is mixed by Jo Webb.
"The plan for The Fever was to make something bigger and ballsier than what has come before," says Redfern. "I also wanted to expand the musical landscape with new colours and sonic horizons."

The Fever is a slide guitar blues barn-buster with subtle nuances of rock, glam and psychedelia. Lyrically, it deals with themes of emancipation and breaking out. It's Troy Redfern full-circle blues rock and roll!
"The Fever is about pushing back and breaking through all the obstacles when you're feeling held down," adds Redfern. "It's about feeling as if it's you against the world."
Redfern's current album, The Wings of Salvation is available digitally, on CD, and on vinyl from the Official Troy Redfern Shop.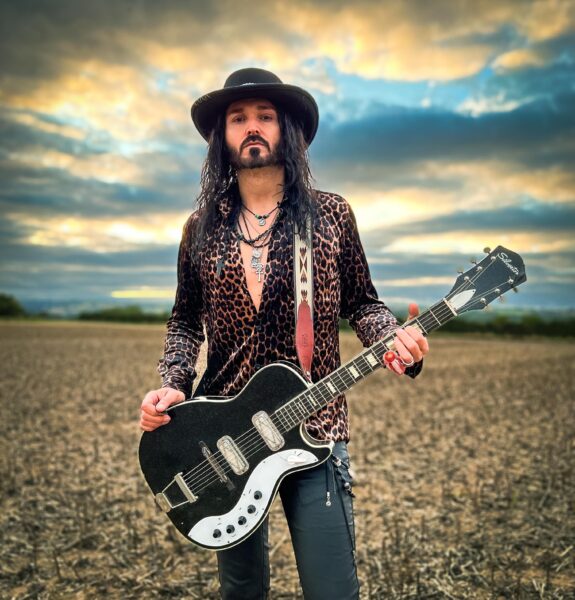 A DHP PRESENTATION BY ARRANGEMENT WITH GYPSY SOUL ENTERTAINMENT
THE COMMONERS & TROY REDFERN
CO-HEADLINE APRIL 2023 UK TOUR

BOOK PRE-SALE TICKETS AT
http://www.gigantic.com/the-commoners-/-troy-redfern-tickets-presale-8488

TICKETS ON GENERAL SALE FRIDAY 13 JANUARY 2023
www.alttickets.com | www.gigantic.com
www.thecommoners.ca | www.troyredfern.com
London, The Grace
Thursday 13 April 2023
Tickets: alttickets.com

Sittingborne, The Bourne Music Club
Friday 14 April 2023
Tickets: Ticketsource.co.uk

Southampton, The Joiners
Saturday 15 April 2023
Tickets: Gigantic.com

Brighton, Komedia
Monday 17 April 2023
Tickets: Gigantic.com

Sheffield, Greystones
Tuesday 18 April 2023
Tickets: Gigantic.com

Oxford, The Bullingdon
Thursday 20 April 2023
Tickets: Wegottickets.com

Bristol, The Louisiana
Friday 21 April 2023
Tickets: alttickets.com

Birmingham, The Asylum 2
Saturday 22 April 2023
Tickets: Gigantic.com

Newcastle, The Cluny
Sunday 23 April 2023
Tickets: Ticketweb.UK

Edinburgh, The Voodoo Rooms
Monday 24 April 2023
Tickets: Gigantic.com

Glasgow, King Tut's
Tuesday 25 April 2023
Tickets: Ticketweb.com

Manchester, Night & Day
Wednesday 26 April 2023
Tickets: alttickets.com

York, The Crescent
Thursday 27 April 2023
Tickets: Seetickets.com

Chester, The Live Rooms
Friday 28 April 2023
Tickets: Seetickets.com

Nottingham, The Bodega
Saturday 29 April 2023
Tickets: alttickets.com