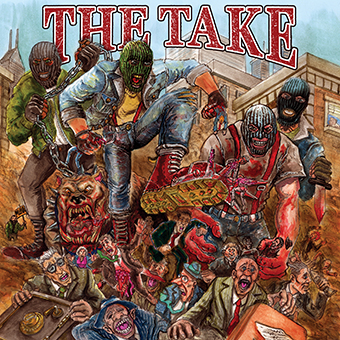 The self titled debut by one of the most talked acts in todays Punkscene – THE TAKE!  has just been released. To celebrate the release the band decided to publish their second Video for "Revolution Now" a cover song by NYs first OI Band THE PRESS!
Famed NYHC drummer Will Shepler (formerly of Agnostic Front, Madball) and Sick Of It All bassist Craig Setari (also formerly Agnostic Front) had an idea for a hardcore power trio. Will called longtime friend, guitarist/vocalist Scott Roberts (formerly of Biohazard, The Spudmonsters, Bloodclot!, Cro-Mags) who had just left Biohazard only weeks before. It was perfect timing for Scott as he wanted to move on and create something new from the ground up with complete creative freedom and passion. Soon after, Scott and Will began working on what would become The Take's self titled debut record. Craig was busy with Sick Of It All's hectic touring schedule so Scott recruited friend and oi veteran Carlos Congote (Royal Hounds, formerly of 45 Adapters, Urban Noise, Legion 76) to complete the lineup.
Another proof for the huge success is that the vinyl first press was sold out on label side before its offical release. The Vinyl is still available in some recordstores worldwide.
A new press is on its way! Transparent Orange Vinyl limited to 250 copies.
US Tourdates:
7/26 Washington DC Rock & Roll Hotel + THE OLD FIRM CASUALS
7/28 Albany, NY Fuze Box
7/29 Pittsburgh, PA The Rex Theater + THE OLD FIRM CASUALS
7/30 Buffalo, NY Mohawk Place + THE OLD FIRM CASUALS
7/31 Brooklyn, NY St. Vitus + THE OLD FIRM CASUALS
European Tour Dates:
17.08. Badalona – Beach, Beer, Chaos (Spain)
19.08. Roeselare – De Verlichte Geest (Belgium)
20.08. Drachten – Scooters (Netherlands)
21.08. Essen – Don't Panic (Germany)
22.08. Halle – VL (Germany)
23.08. Hamburg – Monkeys (Germany)
24.08. Dresden – Hecht Fest (Germany)
26.10. Oberhausen – Turbinenhalle (Germany) + COCK SPARRER
9.11. Untererthal – Stäbruch Festival (Germany) + AGNOSTIC FRONT
14.11. Belfast – The Palm House (United Kingdom) + AGNOSTIC FRONT
19.11. Birmingham – Mama Roux's (United Kingdom) + AGNOSTIC FRONT
20.11. London – Underworld (United Kingdom) + AGNOSTIC FRONT
23.11. St Brieuc – Streetpunk Ink Mas Party (France) + AGNOSTIC FRONT and more
More shows tba.