We caught up with THE SURVIVAL CODE to talk about their background and more.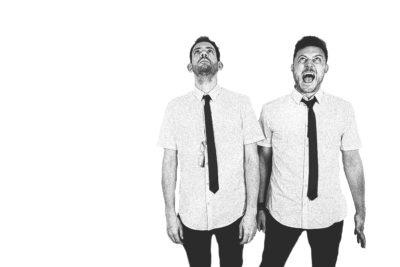 What is the full band line-up, who plays what?
Gary McGuinness (singer,guitars,writes)
Tom Cook (Drums, backing vox) / Darren Gorey (Ireland). Using Tom for the promo and the visuals for the release, that was agreed very early on.
How and when did the band form?
Tom: 2010/11 in London when Gary moved here. He showed up in town with over a 100 songs demo'd but didn't know any musicians. He recorded our debut EP himself which is what drew me in as we met shortly after online. As a drummer I could tell the thought and detail that had gone into the drum parts in each section, it really made me want to be apart of the project.
Tell us anything interesting about your hometown.
Gary: I'm from Dublin, a place called Clontarf. It's lovely, quaint, close to town without being in the mix of it and most importantly, by the sea! very lucky to have grown up with that in my world. It looks smashing when the sun is out, which is only about 3 days a year, so we make the most of it when it does :)
When and how did the band really start gelling and solidifying?
Tom: As we had so many line up changes we had differing stages of solidity. Our original 3 piece from MMXV was solid but a little limited in some ways. The interim period was great for Gary and I but there were too many bass changes to feel great as a unit. This release couldn't feel any better! New riffs flow off the guitar and between us we're jamming and rocking out more than ever, it has never felt as good! Less is more as they say.
Who are your musical influences?
Deftones, Coheed and Cambria, Alkaline Trio, Biffy, Foos , Queens of the Stonage.
Where did the name of band come from?
Gary: It's a little dramatic but it came about as it's my means of getting by and understanding my surroundings. If I couldn't write songs I really don't know how I would deal with the everyday, I've been lucky since a young age to have that drive and passion for expression and it has become my Survival Code.
How far back does your history with each other (the band members) extend? are you friends from school or any family relations?
Tom:Gary and I are the originals, we met back in 2011 through Gumtree, so it's not as romantic a story as i'd like.
Where have you played or toured? Please name all countries / regions and recognised bands that you have played with.
Our most significant gig was Camden Rocks last year and the highest profile band we've played with was in 2015 we played with Press To Meco, Zoax and DEAD! in Camden. We play in Dublin a fair bit is the only caveat .
In your opinion, how is your band different from all the other bands out there?
No frills or whistles, barely any time to faff around on stage which means it's all about the music! When we play live there isn't an extra second or breath to take, it's all now in the moment and hanging on for survival as there's so much going on at any given time. We try and marry that intensity with solid rock tunes, that are complicated and delivered in an honest manner…. This is why it feels better and better to be on this journey as there is a real positive difference we are experiencing as a duo with all the above in mind.
If a deaf person were to ask you to describe the sound of your music, how would you describe it?
Gary: Energetic, passionate , sweaty and determined. They are just some of the words people say of our live show so can imagine even with ear muffs on and just having visuals, these words would make sense.
Where can we find your social media sites? We are on most socials so anywhere you fancy and should also be on all streaming/downloading services.
www.thesurvivalcode.co.uk      www.facebook.com/thesurvivalcode/
www.twitter.com/thesurvivalcode      www.soundcloud.com/thesurvivalcode