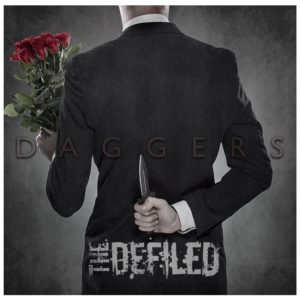 After hearing a fair bit of hype and eventually catching The Defiled on their recent tour with Motionless In White, my curiosity got the better of me and I decided to give their new album 'Daggers' a spin.
From opening track 'Sleeper' right throughout the album there are some very catchy hooks and melodies, all driven along with some suitably heavy guitars. The AvD's keys and programming provide an industrial sounding element to their overall sound that seems more mature & technically superior to their previous studio album 'Grave Times'.
Needles provides some seriously ferocious drums on 'Saints and Sinners' while The AvD has programmed some church bells into the mix to add to atmosphere of the track, in fact there are little nuances like this throughout the album that add to it's character.
It's been a while since the UK has had a heavy band to get excited about, and I can definitely see why there has been so much hype about The Defiled. 'Daggers' is an album full of huge potential for them. Be under no illusions even though I previously mentioned catchy hooks and melodies; this is not some kind of boy band cock-rock, this is a full on metal album, full of huge chugging guitars, great vocals and one which seems to embrace the anarchic spirit of punk all wrapped up in a very musically accessible package. I will watch with interest to see just how far 'Daggers' will propel this particular 5-piece in the coming months.
Track Listing: 
Sleeper
Unspoken
Saints and Sinners
As I Drown
Porcelain
New Approach
Fragments Of Hope
Infected
The Mourning After
Five Minutes
Band Lineup:
Stitch D – Vocals/Guitar
The AvD – Programming/Keys/Background Vocals
Aaron Curse – Guitars
Vincent Hyde – Bass
Needles – Drums
Band Links:
http://www.thedefiled.bigcartel.com
http://www.facebook.com/thedefiled
http://www.twitter.com/thedefiled
http://www.youtube.com/user/THEDEFILEDTV