Testament – Titans Of Creation
Thirteen is allegedly an unlucky number but this is not the case for thrash metallers Testament as they unleash their thirteenth studio album Titans Of Creation via Nuclear Blast Records on April 3rd 2020. Their inclusion to the Big Four of thrash metal bands should be assured by this colossal release. It sounds massive courtesy of the mixing and mastering by Andy Sneap, especially for the superhuman drumming from Gene Hoglan! The twelve songs here are all bangers, all killer, no filler as opener 'Children Of The Next Level' is thrash metal of the next level.
It's a rip roaring track that shows they still have the fire in their veins. It's a full blooded turbocharger that pummels and flays for a turbulent six minutes. 'WW III', if it ever happens has the soundtrack for it right here with this pit opening pounder. Furious kick drumming is a shockwave of epic proportions and lead vocalist Chuck Billy's guttural roar has stood the test of time. 'Dream Deceiver' is a supreme metronomic drum driven mid paced thrasher as melodic choruses are a nice touch. A shift of vocals sees guitarist Eric Petersen take the reins on the choruses for 'Night Of The Witch' and he's no slouch as he wails along furiously. It's a raging slab of no frills heavy metal and Gene's drums must register high on the richter scale!
'City Of Angels' is a gripping grind dominated by thumping bass guitar lines from Steve Di Giorgio. Melodic choruses give off an eerie vibe as it heavies up to some blazing guitar work from Alex Skolnick. 'Ishtar's Gate' is a full on skull crusher of gnarly vocals, rib rattling snares and fleet fingered lead guitar work. Doom grooves bring the pace for 'Symptoms' to a crawl as it lumbers along until Gene batters everything away with ankle snapping kick drumming. My album highlight comes from 'False Prophet'. If this doesn't whip up circle pits then nothing will. It's an overwhelming PA system smashing thrash, especially the breathtaking last third. After all these years since forming in 1983 known as Legacy until a name change in 1986), where are all these riffs still coming from? One answer is 'The Healers' as they come out fighting that feels like you are in the eye of a storm.
'Code Of Hammurabi' is a roller coaster ride of grooves that will throw you around with every musical twist and turn. 'Curse Of Osiris' is a nuclear powered gallop, one of the heaviest songs I've heard from them for quite some time and the blast beats caught me off guard with headphones on. Truly monstrous! This behemoth of an album closes with 'Catacombs', a two minute mental instrumental of sonic battery.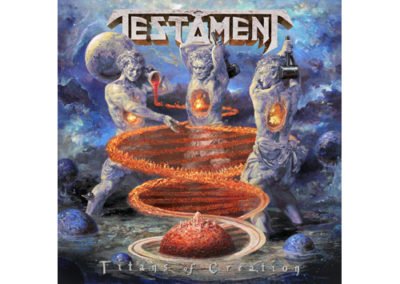 Titans Of Creation album track listing :-
Children Of The Next Level.
WW III.
Dream Deceiver.
Night Of The Witch.
City Of Angels.
Ishtar's Gate.
Symptoms.
False Prophet.
The Healers.
Code Of Hammurabi.
Curse Of Osiris.
Catacombs.
Testament prove they are the titans of creation with this thrash attack!