Bay area thrash metal giants TESTAMENT unleashed their highly acclaimed thirteenth studio album, Titans Of Creation, via Nuclear Blast in 2020.
TESTAMENT is proud to announce they will release a Titans Of Creation Video Album on September 9th via Nuclear Blast Records. The limited-edition collectable features performance videos of all the tracks on the record. The footage was compiled at a soundstage in San Francisco and was edited into music video-style clips that will be available on Blu-Ray accompanying the CD with bonus photos and liner notes plus a button and sticker in a long box. Staying true to the record, the performances feature Gene Hoglan behind the kit! This version will be limited to 6,500 units worldwide. 
In celebration of the news, the band releases the music video for the track "Curse Of Osiris" which can be seen here: 
Chuck Billy comments, "I'm very excited and proud to release the video play-through for the Titans of Creation album. We were fortunate enough to have Gene Hoglan on drums before his departure. Now fans can watch us play the entire album in their homes with friends and start their own mosh pit in their living rooms."
Eric Peterson comments, "We are pleased to announce something we have always wanted to do! A performance video for each song on our latest release Titans Of Creation. It almost didn't happen as we got the news from Gene that he was going to go his separate way, but we left on a good note and we agreed that we should nail this last idea I think it came out really killer & can't wait for everybody to see it! We kept it simple, and added a couple of visual elements on some songs for a certain vibe of the song, overall great to listen to and watch us jam these new killer songs! Looking forward to doing it again on the next record too!"
Pre-order your Titans Of Creation Video Album, here: https://label.nuclearblast.com/testament
Listen to the album on all streaming platforms: https://testament.bfan.link/titans-of-creation
Today also marks the kick-off of the band's European run. The trek includes almost a dozen club shows to fill the gaps between their numerous 2022 Summer Festival appearances, which will include some of the biggest and most renowned metal fests across the continent. The club shows will see the band joined by their peers and legends in their own right, EXODUS, and HEATHEN, as well as DEATH ANGEL.
Tickets for all shows are on sale now – head over to www.testamentlegions.com/site/#tour.
TESTAMENT's 2022 live dates
09.07.2022 DE – Ballenstedt – Rock Harz Festival
10.07.2022 CZ – Vizovice – Masters of Rock
11.07.2022 PL – Krakow – Studio w/ Exodus/Heathen 
12.07.2022 SK – Bratislava – Refinery Gallery w/ Sepultura/Exodus/Death Angel/Heathen 
14.07.2022 DE – Neukirchen-Vluyn – Dong Open Air
16.07.2022 AT – Leoben – Area 53 Festival
17.07.2022 IT – Cremona – Luppolo in Rock
19.07.2022 IT – Rome – Rock in Roma w/ Exodus/Death Angel/Heathen 
21.07.2022 DE – Fritzlar – Rock am Stück
23.07.2022 BG – Plovdiv – Hills of Rock
24.07.2022 RO – Sibiu – Art Mania
26.07.2022 SI – Tolmin – Metaldays
29.07.2022 PT – Vagos – Vagos Metalfest
30.07.2022 ES – Burgos – Anden 56 w/ Exodus/Heathen
31.07.2022 ES – Pamplona – Totem w/ Exodus/Heathen 
03.08.2022 ES – Malaga – Paris 15 w/Exodus/Heathen
04.08.2022 ES – Villena – Leyendas del Rock
05.08.2022 ES – Madrid – La Riviera w/ Exodus/Heathen 
06.08.2022 ES – Barcelona – Razzmatazz w/ Exodus/Heathen 
09.08.2022 FR – Bordeaux – Rocher de Palmer w/ Exodus/Heathen 
12.08.2022 UK – Catton Park – Bloodstock Festival
13.08.2022 BE – Kortrijk – Alcatraz Festival
14.08.2022 DE – Saarbrücken – Garage w/ Exodus/Heathen 
16.08.2022 AT – Innsbruck – Music Hall w/ Exodus/Heathen 
17.08.2022 DE – Dinkelsbühl – Summer Breeze
19.08.2022 DE – Sulingen – Reload Festival
20.08.2022 NL – Eindhoven – Dynamo Metalfest
21.08.2022 FR – St. Nolff – Motocultor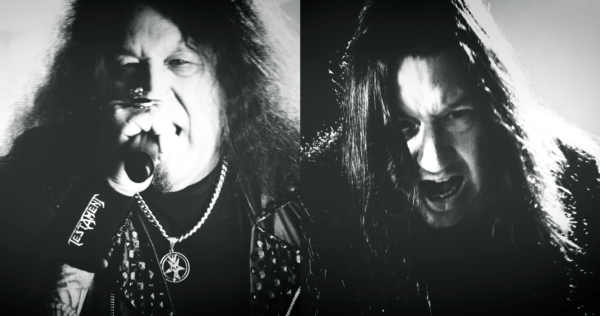 Titans Of Creation was produced by Chuck Billy and Eric Peterson while Juan Urteaga of Trident Studios handled co-producing, recording and engineering. Andy Sneap was responsible for the mixing and mastering of the album. Eliran Kantor stepped up once again to create a new masterpiece of artwork for the cover of this release.
TESTAMENT has taken its style to the next level and presents an album that is loyal to the roots of traditional thrash metal while still including the alluring, brilliant, and progressive ingredients they are known for.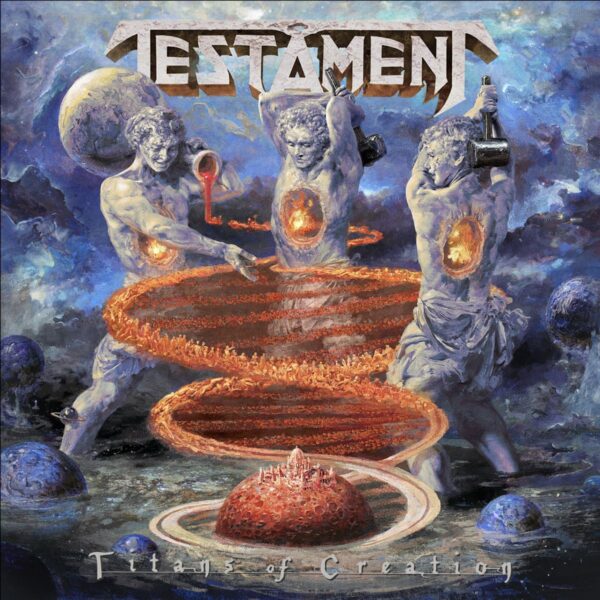 Below is the track listing:
Children Of The Next Level
WWIII
Dream Deceiver
Night Of The Witch
City Of Angels
Ishtar's Gate
Symptoms
False Prophet
The Healers
Code Of Hammurabi
Curse Of Osiris
Catacombs
TESTAMENT on Titans Of Creation is:
Chuck Billy | Lead Vocals
Eric Peterson | Rhythm/Lead guitar & Vocals
Alex Skolnick | Lead Guitar
Steve Di Giorgio | Bass guitar
Gene Hoglan | Drums
*Dave Lombardo will be playing drums on all upcoming tour dates.
This Fall, TESTAMENT will head out on the second leg of the North American "The Bay Strikes Back Tour" with EXODUS and DEATH ANGEL, For this round, the 26-date tour will begin in Phoenix, AZ on September 9 and will make its way across North America including performances in Nashville, Montreal, and Vancouver. The epic thrash tour will conclude on October 15th at the San Jose Civic.
Tickets for the tour can be purchased here: https://www.testamentlegions.com/
Confirmed dates for the North American/Second Leg of "The Bay Strikes Back Tour" with TESTAMENT, EXODUS, and DEATH ANGEL are:
9/9/2022 – Phoenix AZ – Van Buren
9/10/2022 – Albuquerque NM – Sunshine Theater
9/12/2022 – Wichita KS -Cotillion
9/13/2022 – Kansas City MO – Truman
9/15/2022 – St. Louis MO – The Pageant
9/16/2022 – Nashville TN – Brooklyn Bowl 
9/18/2022 – St. Petersburg FL – Jannus Live
9/19/2022 – Ft. Lauderdale FL – Revolution
9/21/2022 – Asheville NC – Orange Peel
9/22/2022 – Silver Spring MD – Fillmore
9/23/2022 – Stroudsburg PA – Sherman Theater
9/26/2022 – Hartford CT – Webster Theater
9/27/2022 – Albany NY – Empire Live
9/28/2022 – Portland ME – State Theatre
9/30/2022 – Montreal QC – Mtelus
10/1/2022 – London ON – London Music Hall
10/3/2022 – Ft. Wayne IN – Piere'sTuesday
10/4/2022 – Milwaukee WI – The Rave
10/6/2022 – Winnipeg MB – Burton Cummings Theatre
10/8/2022 – Calgary AB – Palace Theatre
10/10/2022 – Vancouver BC – Commodore
10/12/2022 – Ventura CA – Majestic Ventura Theater
10/13/2022 – Los Angeles CA – The Wiltern
10/14/2022 – Reno NV – CargoSaturday
10/15/2022 – San Jose CA – San Jose Civic
Pre-order your copy for Titans Of Creation Video Album here: https://label.nuclearblast.com/testament