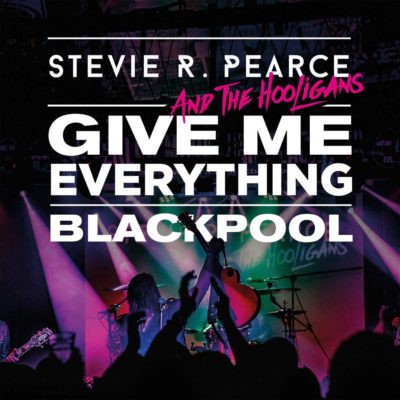 There cant be many live albums that are completely live with no studio trickery after the event to tweak an out of tune guitar or vocal but here's one to feast your ears on as Give Me Everything, Live In Blackpool by Stevie R. Pearce And The Hooligans captures a high octane eight song set recorded at The Waterloo Music Bar on December 18th 2018. I was there for the four band bill, headlined by Massive Wagons. The Hooligans were on second, a new band to me and a quote from my review then was "Their set left me breathless". So fast forward to December 12th/13th/14th 2019 as a three date album launch took in gigs at Edinburgh, Bradford and fittingly enough a triumphant return to the Waterloo!
The eight songs on the album were part of a twelve song set that night which saw a guest spot by Ian Fletcher, the landlord of the Waterloo strapping on his bass guitar and hammering out 'Folsom Prison Blues' with them later on in the gig that almost never happened due to a bout of food poisoning contracted by Stevie that afternoon in a local takeaway. Released on December 13th 2019 via Cargo Records, it was recorded by the Waterloo sound man Paul Sheppard (credited as "The hero of the board of the Waterloo") from the mixing desk, mixed and mastered by Dave Draper and the album cover shot by Simon Dunkerley perfectly captures the intensity of the gig. Listening to the album brought back so many great memories from that night.
'Folsom Prison Blues' opens up the set on a howl of feedback and a roar from Stevie of "Are you fucking ready Blackpool?". It's a storming thrashout of the Johnny Cash classic with the kick drumming driving it along in the vein of 'Overkill'. Riffs like shockwaves decimate the front rows driven by a loco vocal snarl from Stevie. 'Bad Day' is a punishing piledriver laced with mighty crowd fueled "Whoa oh oh's". 'Going Down' is all sleazy raunch bringing to mind the rawness of The Throbs. A heart on sleeve ballad comes from 'You' as it flows along on some catchy, earworm riffing and Stevie ends it on "All because of you Ian Fletcher". 'Nobody Loves You' is a gnarly chugger given an extra edge by a punk snarled vocal.
Southern Rock guitar lines weave in and out of beefy power chords in 'Same Old Story' and a lung shredding vocal ends in Stevie shouting " Let's see some fucking hands. We've only got two songs left after this so let's go on a fucking hellride!". They certainly do as it ends on a full on bare knuckle fight outro. 'Set My Soul On Fire' rushes along as a melodic punk foot tapper with some beautiful guitar lines flowing from the stage and they close with the bullish, aptly titled 'Hooligan'. It rages along like a souped up 'Fortunate Son' by CCR and fittingly ends with a mighty roar from Steve of "I'm a goddamn hooligan!"
Give Me Everything, Live In Blackpool album track listing :-
Folsom Prison Blues.
Bad Day.
Going Down.
You.
Nobody Loves You.
Same Old Story.
Set My Soul On Fire.
Hooligan.
A live album that is totally live! No overdubs, just how the gig was played on the night. An adrenaline rush of no frills rock and roll.