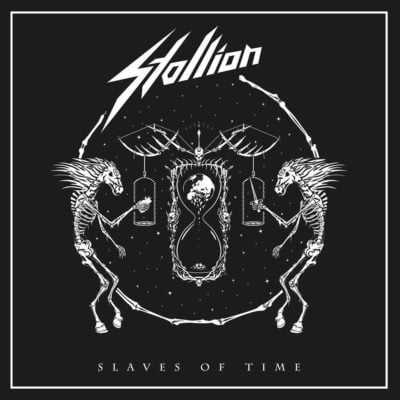 2020 has got off to a thrashtastic start, courtesy of German lunatics Stallion with their third studio album Slaves Of Time. Due to be released by High Roller Records on Feb.28th, ten tracks of rabid thrash metal are dished up here. Formed in the Lake Constance area in 2013, the album opens up with 'Waking The Demons'. A Godzilla stomping intro paves the way for the guitars to switch to power metal ferocity and then even faster to raging foot on the monitors thrash metal. Fleet fingered guitar solos and a helium fueled lead vocal make it a strong opener.
'No Mercy' is a sure fire pit opener as they blaze a trail of foot to the floor speed metal, powered along by some furious kick drumming and pummeling bass guitar lines. 'Time To Reload' sees them shoot from the hip with a full on pound of precision and power as the vocals hit stratospheric heights. The pace slows down for 'All In' as a sleazy main riff is backed by gang like backing vocals. Midway it breaks from free from its shackles into a full on headbanger! Buzzsaw riffing throughout 'Brain Dead' sees them play even faster as the lyrics are spat out with King Diamond like shrieks. 'Die With Me' is the nearest the band get to a ballad here, but what a ballad! An emotionally charged vocal and virtuoso musical performances make it a seven minute long album highlight.
'Merchants Of Fear' is another full throttle throttling thrasher that takes no prisoners for a frenetic three minutes. 'Dynamiter' is a short, sharp black eyed bruiser that does what the title suggests as it blows out of your speakers. 'Kill The Beast' is kick drum driven melodic speed metal with lashings of face melting guitar solos. 'Meltdown' sounds like they are having one as they end the album with a dose of old school heavy metal.
Slaves Of Time album track listing :-
Waking The Demons.
No Mercy.
Time To Reload.
All In.
Brain Dead.
Die With Me.
Merchants Of Fear.
Dynamiter.
Kill The Beast.
Meltdown.
Stallion band line up :-
Pauly – Lead vocals.
Axxl – Guitar.
Clode – Guitar.
Stampfe – Bass guitar.
Aaron – Drums.
Fans of old school thrash metal will raise their hands high to this stunning album by Stallion!