South Of Salem proclaims 'The Sinner Takes It All'
Having spent the best part of a decade working on various musical projects supporting the likes of Iced Earth, The Damned, Wednesday 13, and The Birthday Massacre; New British hard rock group South Of Salem have announced details of their forthcoming debut album 'The Sinner Takes It All' and premiered a music video for new track, 'Cold Day In Hell':
"'Cold Day In Hell' is a twisted homage to the dark and ugly sides of relationships", explains South Of Salem's frontman Joey Draper. "The lyrics speak of gas lighting and how the worst abuse can come from those who are closest to us. It deals with control and emotional abuse. The guilt and fear that can be bestowed upon them. Leading the victim to believe their only option is to stay proverbially chained to their captor."
This latest track by the Bournemouth hard rock band is a stunning representation of the musicality and emotional lyrical themes running through the forthcoming album 'The Sinner Takes It All'. Recorded at Grindhouse Studios, Suffolk UK and working with acclaimed producer, Scott Atkins (Cradle Of Filth, Amon Amarth, Sylosis, Behemoth), South of Salem's has brought to life an album full of cult anthems that have a truly original but recognizable take on the rock and metal genres, with a horror twist. Tracks like the Purge-esque 'Let Us Prey', 'Cold Day In Hell', and 'Demons Are Forever' are full of infectious hooks, fierce solos, and unrelenting attitude.
With the band finally ready to launch in 2020; their first show in their hometown sold out and then… Covid 19 and the global lockdown hit the world. While so much of the world was buried in the lockdown instead of falling apart this only increased the bands resolve to succeed.
"The lyrics effectively reflect the human race and where we are today as a society and how some people handle relationships, wealth over health… especially right now", says Draper. "The album title is a play on ABBA's 1980 hit 'The Winner Takes It All'. Mixing the tongue in cheek puns along with such heavy subject matter gives everyone a chance to relate in their own way. On a personal note we chose the album title because all the band members have been to hell and back with our lives in recent years. Some of it privy to intimacy, some of it from our experiences of being musicians trying to navigate one of the most mentally challenging industries in business. As I dived deeper in to the lyric writing it became apparent the words had a much broader meaning and chimed with the times.

Greed, manipulation, corruption, abuse; essentially what we're tackling here is low life in high (and low) places, and even though we've seen some positivity come out of this awful Coronavirus pandemic, it's not enough. Sadly, most of the time it is the people that use others, that manipulate and do wrong that ultimately come out on top and leave a trail of mental health and wellbeing issues in their wake. 'The Sinner Takes It All' represents the corruption connected to wealth and power. How in dark times the rich become more affluent and the poor become more disconnected. During the current pandemic, small businesses are going under and people are more reliant on their government. Human beings abusing others, when they should be helping one another. The sinners are truly preparing to take it all. Enough is enough!"
South of Salem's debut album 'The Sinner Takes It All' is released 25th September 2020.
Pre-order it here: https://southofsalem.bigcartel.com
ALBUM TRACKLIST 

1. Let Us Prey
2. The Hate In Me
3. No Plague Like Home
4. Pretty Little Nightmare
5. Made To Be Mine
6. Cold Day In Hell
7. Demons Are Forever (ft. Alex Avdis of Red Method)
8. Another Nail In My Coffin
9. Severely Yours
10. Dead Hearts Don't Break

SOUTH OF SALEM IS:

Joey – Vocals
Fish – Guitar
Kodi – Guitar
Dee – Bass
Pip – Drums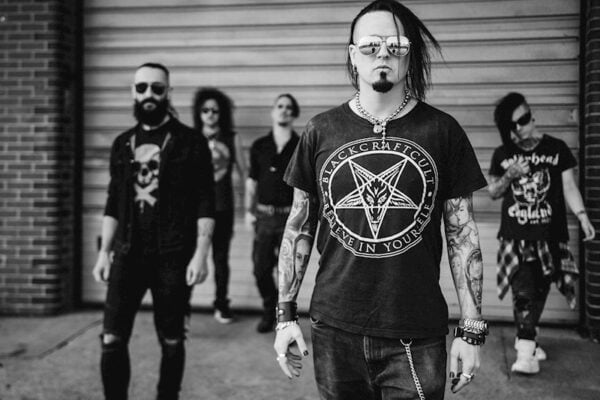 CONNECT WITH SOUTH OF SALEM:
. Website: https://www.southofsalem.com/
. Facebook: www.facebook.com/southofsalemofficial
. Instagram: www.instagram.com/southofsalemofficial
. Twitter: www.twitter.com/southofsalem1
. You Tube: https://www.youtube.com/c/SouthOfSalem