Skyryder – Vol. 2
It's been two long years since Newcastle Upon Tyne based nutters Skyryder battered us with Vol. 1, so we can now rejoice in the arrival of, erm, Vol. 2! Recently released on High Roller Records, if you like your metal hard and heavy then this is an essential purchase.  Their take on NWOBHM is here for all to hear as they kick off with 'Virtual Humanity'.
A pulsing minute-long intro precedes a race to the finish line at breakneck speed but the gold medal goes to the helium fueled vocals of Luke Mills. Jabbing riffs during 'Dead City' tear this melody drenched number along to short, punky choruses as molten metal guitar solos toughen it up. 'Midnight Ryder' is air guitar heaven as Adam Thorpe and Jonny Stern duel away like two musketeers when the song takes off.
Every cliche in the book, in a good way, of course, comes from the lyrics in 'Mistress Of Darkness' as once again, those guitars rage away. They save their paean till last with 'Take The Night', a potent speed metal shredder. Melodic guitar lines and an over the top drum battery from Andy Macknight keeps the recording levels in the red. An almost whispered midsection is the calm before the storm of a foot on the monitors show-stealer.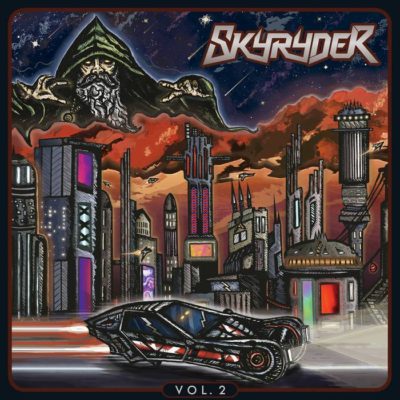 Album tracklisting:-
Virtual Humanity.
Dead City.
Midnight Ryder.
Mistress Of Darkness.
Take The Night.
Skyryder band line up:
Luke Mills – Lead vocals.
Adam Thorpe – Lead guitar/vocals.
Jonny Stern – Lead guitar.
Luke Williams – Bass guitar.
Andy Macknight – Drums.
USEFUL LINKS:
https://skyryder.bandcamp.com/
Skyryder returns with a cloudbusting second album.