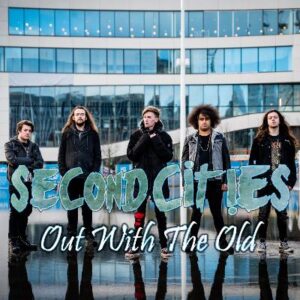 Three singles from Birmingham based Second Cities released in 2020 got the ball rolling towards 2021 and that momentum has spawned their debut EP Out With The Old, a five track tumult that includes the three aforementioned tracks.
The band proclaim that the EP title is from being sick of the coronavirus but believe that a long term solution is on its way. These songs confront emotional issues from them but also give out a message of hope.
They go for the throat immediately as opening track 'Like A Moth' captures the industrial grind of early Godflesh interspersed with touches of off kilter melody backed by a furious drum pummel. Lead vocals are clean but also cathartic to make the song nothing less than a full on freak out!
A backbone of tribal drumming propels 'Love And War' to be an anger fuelled rager. Riffs crash and slash with aplomb around a demented vocal tirade.
'Oceans (Elemental Hero Bubbleman)' has a calm before the storm almost ambient like intro as the grooves that follow pull you in. It's so claustrophobic it'll have you gasping for your last breath from the refrain of "I'm being pulled by the ocean, motherfucking misery".
'Faith' has a surprisingly angelic vocal matched by the calm of the laid back intro. It gradually heavies up to a final minute of guitar overload. Astonishing!
The final track 'Say Goodbye (For Now)' arrives far too soon. It's also my favourite track, also the heaviest and hardest track to review due to its mood changes. They bludgeon us with gnarly verses, eerily whispered choruses and it muscles up midway to raise the anger levels which curveball into a bluesy guitar piece and an armageddon inducing outro!
Full links to the band and the EP can be found here https://www.facebook.com/SecondCities
Second Cities band line up :-
Jamie Martin – Lead Vocals.
Tony Mac – Guitar.
Josh 'Watto' Watson – Guitar.
Damon Springthorpe – Bass Guitar.
Joshua Zaidi-Crosse – Drums.
An impressively turbulent debut EP.