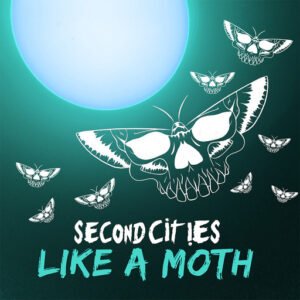 Second Cities return with latest single 'Like A Moth' but these Birmingham based oiks sound more like a bat out of hell as they thrash out a brutal bludgeon.
It's not all noise for noise sake as there is a lot more to their oeuvre from the lead vocals of Jamie Martin with his yin and yang clean/hollered delivery giving us a message of hope in these troubled times. Something we all need at the moment. Follow Butterfly Releases for more updates.
This chest beating call to arms tirade ends on a kick drum battery to hammer their point home.
Band links :- https://www.facebook.com/SecondCities
Second Cities band line up :-
Jamie Martin – Lead vocals.
Tony Mac – Guitar.
Josh 'Watto' Watson – Guitar.
Damon Springthorpe – Bass Guitar.
Joshua Zaidi-Crosse – Drums.