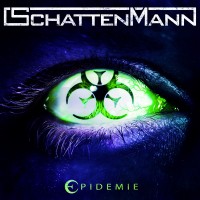 When I was asked to review the new album by Schattenmann it was pitched to me as "if you like Rammstein you might like this". So as the album starts I'm already prejudging. As if aimed to not disappoint the opening track Schattenland has the throbbing industrial guitar beat from German's finest. For a band whose name translates as Shadow Man I'm left wondering if this is their goal.
With the second track they prove Germany's education system is better than the British equivalent by their ability to spell swear words in English F.U.C.K.Y.O.U. they spell out in the song. I am however starting to hear some originality coming through with a modern NuMetal sound.
Schlag fuer Schag which translates as Beat for Beat (thank you google) is a fun upbeat number which I should imagine if you speak the lingo could be a crowd-pleasing chant.
Next up is the title Epidemie this track has that special something, its catchy without selling out to pop. I'm doing what very few foreign language bands have managed to get me to do I'm singing along without knowing what I'm saying!
I've always felt the Germanic language is one of the most metal of all (maybe Icelandic has an edge) with all the tongue twisting guttural compound words. Wahrheit oder Pflicht (Truth or Dare) has some fine examples of why I only did German for one year in school. Sounds bloody cool though.
Ruf der Engel (Call of the Angels) which has a YouTube video release (see the header video) is strangely capable of telling you all the lyrics without having a clue what is said. Listen to it and you'll see what I mean.
Kopf durch die Wand (Head through the Wall). When I googled it. came up with another german band with a song of the same name. Cover maybe or is "head through the wall" a german saying, someone help please!
Gewissen is another synth heavy track (I hope the keyboard player is a gimp as well) I am taken at this point to notice how tight an outfit they are. This is the second album from Schattenmann but it could easily be the tenth from the sound of them.
Slow number next which I'm sure is heart-felt and would be well received by their fans. Without translating the title I'm assuming Nadel und Faden is something about the 11 times French open winner. Maybe not!
At last a song title I don't need to translate Phantom is the last track and bookmarks the album well with it's Till Lindemann like vocals, correct me if I'm wrong, but I'm sure one line says "it's time for tea"!. Good call my German friends.
Is this the album to break Schattermann  in the UK, I think not. But I can see one or two tracks slipping onto a playlist of non-English metal.
I think i just passed my GCSE in German.
German industrial NuMetal emo Goth nuff said