New York Blues Rock singer/songwriter Sari Schorr has once again turned video-maker, creating a visually accomplished, brand-new video for her latest single 'Turn the Radio On'. Taken from her outstanding album 'Never Say Never'
Resilience is Sari's middle name. She's a creative artist adapting to life during the ongoing COVID pandemic, which has brought live performance and touting to a standstill. Before the pandemic kicked in 2020, Sari would've been setting out on her new headline tour 'Live in Europe', visiting most of Europe including several shows with Robin Trower. This would have been her most extensive tour to date. Hopefully all these postponed dates will go ahead in the Autumn of '21.
During the past year, Sari has honed her new craft, shooting and editing vivid, evocative pieces, such as her much-viewed, haunting 'Ordinary Life' video, where she captured striking scenes of life in The Big Apple under the first lockdown and social isolation in New York, and also reminded us to be grateful for everyday experiences that we may have taken for granted.
With her latest video — for 'Turn the Radio On' — Sari shows how far her creative visual skills have come, and what can be achieved these days with quality consumer media tools, like a smartphone, laptop and editing software. Oh, and vision, commitment and one Hell of a song!
Sari Schorr Releases Her New, Self-shot Video for 'Turn the Radio On'.
Time-lapse shots of clouds racing across the New York skyline mingle with stylish compositions, creative shooting angles, lens flares and more. Horses race along a beach: a car drives up a winding open road, and like memories these image stream across Sari's piano as she plays. And Sari sings, with trademark gusto, energy and abandon, on a New York rooftop.

"It's hard, maybe impossible, to always keep things in perspective," muses Sari, "I think a lot about the past. Life paves this beautiful road for us to roam, but it's bumpy and narrow with twists and turns, offering up hit or miss guardrails that stand as our last defence between serenity and regret.

"Regret is an undesirable bedfellow. It visits me on those long sleepless nights. When the Sun finally rises, I'm trapped between the past and present: that is when I begin to write.

"Telling stories in a song brings me back to the present. I can see my perspective is refocused. After I finished writing 'Turn the Radio On', I felt less isolated because I knew there would be other people for whom the song would also resonate.

"The impossibility of touring because of COVID has been a crushing blow. I'm a storyteller who is inspired and motivated by my audience. I've had to reinvent a method for creating and sharing the art of live performance.

I've turned to producing music videos to expand the definition of what performance looks like during a global pandemic. 

"Creating this visual representation of my music has been a monumental challenge, first and foremost because I'm not a filmmaker and have no professional equipment at my disposal. Furthermore, location options were limited due to the pandemic. And, learning my way around Final Cut Pro (software not for unadventurous) took a mix of naivety and grit.

"So, the craft of storytelling is presented through the lens of my iPhone rather than through stagecraft, but I hope the connection with the audience will be as rewarding and memorable."
The single is now available to download & Stream from  digital platforms http://smarturl.it/ssradioon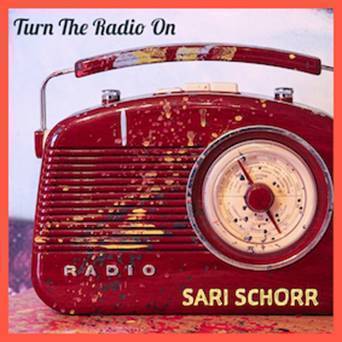 Website: http://www.sarischorr.com/
Twitter: @SariSchorr
Facebook: @SariSchorrMusic