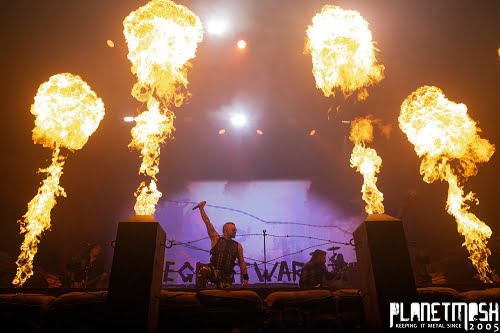 Tonight saw Sabaton play their only UK gig on their current tour, at a sold-out Wembley arena. On this tour they've got two excellent support acts in the form of Amaranthe and Apocalyptica.
First up was Amaranthe. I first saw them play 9 years ago and while they were impressive back then, they've gone from strength to strength with their live performances. If you've never listened to Amaranthe before it's a mix of death metal, rock and pop – a strange combination but one that works extremely well and gives them a unique and very catchy sound. It's a bit odd seeing them having to work around Sabaton's stage set – the sandbags at the front do seem to limit them slightly but Elize Ryd doesnt let it bother her and uses the platforms to move around the stage and make sure the crowd can see her. Looking at the audience there's plenty of movement with plenty of people clearly enjoying the set.
Next up was Apocalyptica. They're very talented – playing Metallica or Rammstein songs on cellos isn't easy and it is a very good set but it just doesnt get the crowd going as much as Amaranthe do – personally I'd have had Apocalyptica open the night then have Amaranthe take the pace up before Sabaton. That aside it's a very good set, and they get Elize Ryd from Amaranthe to join them to add female vocals on a couple of songs. For me that was what saved their set – when they've got vocals then it's really good stuff, but without any vocals then there's a tendency for it to sound like an intro tape – it just feels like it's missing something.
Finally it was time for Sabaton. Their stage shows have got bigger and bigger over the years, and with the arena shows they can make it the biggest tour yet. Of course there's the tank drum riser, and the sandbag and barbed wire decoration across the front of the stage like they used at Bloodstock, but there's plenty more besides including a Hammond organ made to look like the Red baron's plane (complete with spinning propellor). There are costume changes – they come out part way through the set in Blue and yellow jackets (Swedish colours), and for one song they don gas masks as Joakim sings with his mask on and uses a smoke gun to simulate poison gas. I'm sure there was one more element to the show though…oh yes….FIRE. They brought Fire, more fire and even more fire plus explosions and fireworks – it felt as though they've been to see Rammstein and felt the need to up their pyro game. They've used pyro for many years now but this was the biggest show yet – while photographing during the second song it felt like we were being burned alive – well done to security and those fans on the front row for braving the heat for the whole set.
The first part of the set was Sabaton doing what they do best – great power metal with a military theme. They're great performers and it really was a great show. Then they brought out Apocalyptica to join them for the song they did together before Joakim announced they'd stay on stage for a few more songs. It worked well with the Cellos adding to the Sabaton sound, and the two bands interacted well together and all looked to be having fun. Then it was time for a short break before the encore.
Joakim is a great frontman and knows how to have fun with the crowd. At one point he decided to get the crowd to sing along – but despite the British not being known for language skills, he was going to teach us the words in Swedish – which turned out to be "Ikea, Ikea, Ikea". Afterwards he laughed and said that it was something he loved here, the fact he could take the piss out of us without us getting angry at him. It's that fun element that really helps make Sabaton gigs such great fun though, as well as the music and performance (and pyro).
This was Sabatons first UK arena show and they filled Wembley arena. It won't be long before they can do a full UK arena tour and sell out arenas around the country – this is a band that's grown steadily since their first UK headline show to a few hundred people at the Purple Turtle in Camden to the size where they can fill arenas and I don't see any sign of their popularity growth slowing. They make great music and put on a big show to entertain the crowds.
Tonight saw three great bands play and as a result there were thousands of happy metal fans leaving the venue at the end of the night.