It's a sit-down affair tonight, at the Brudenell Social club, Leeds. Small circular tables fill the floor space as we await an acoustic evening with Ryan McCombs, the notorious singer of Soil.
Adam Jerome, vocalist and guitar slinger for Less Than Hollow, got a call at 11 am this morning asking if could open for Ryan this evening. A few hours later, Adam makes it up from London. Unprepared but armed with an arsenal of songs and quips, to fill the bits in between guitar tuning.
With no merch to sell, Adam sells us stories of Less Than Hollow and gives us a flavour of his vocal and musical stylings which range from Dexter Holland on Wreck My Life to Nickelback on the angry Insulted.
For a solo act, with no time to rehearse Jerome gives a stellar performance and even gets the crowd to join him on some back-and-forth 'whoa's'. The heartfelt How Can I Live, is given some pizazz with a big 'flamenco' ending.
If you like bands such as Seether, Puddle of Mudd, and Crossfade go check out Less Than Hollow – https://www.facebook.com/lessthanhollow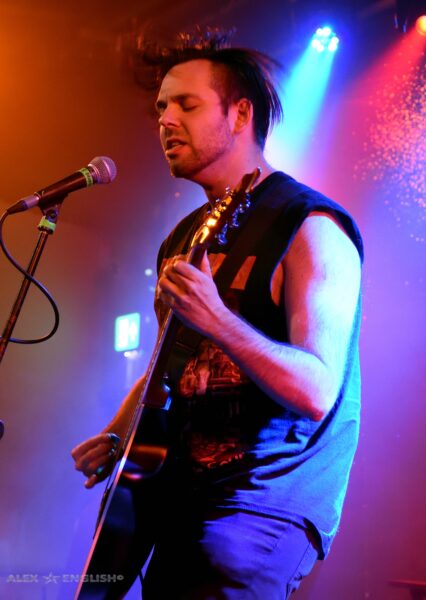 Ryan McCombs
The post-grunger/alt-hard rock American singer Ryan McCombs brings you something very different to how you've heard him before. Known for being the singer of Soil and Drowning Pool, McComb's onstage antics during those years have been as epic as his off-stage ones.
Described as the 'angry hobbit from Swindon', McCombs is now settled and living in the UK. Tonight is an accumulation of his formative years, sharing stories and giving you an insight into himself, and the songs he penned.
Taking his place centre stage with his own little table and setlist, Ryan is joined by Ellie on drums, Martin on bass and Freddie on guitar. It's very interesting to watch a wildman of rock be seated. And, boy does he makes his audience laugh intentionally or not!
Hearing songs like Redefined is interesting, you're picking up the beat but it's so stripped back, and the vocals impress with their power as they leave the aggression behind. It must've taken a lot of work to get the songs right on cue, as not every song translates well non-electric.
The gentle bass guitar and melodic sound welcome Turn So Cold which is fuelled by McComb's venomous vocals on the chorus, did he have razor blades for breakfast? The song is followed by a story and pauses for anticipation and crowd reaction. We love it. Even the parts McCombs confesses to forgetting.
With more laughs than a purposely scripted comedy show. Ryan shares anecdotes of his time with Wayne (Static X) and the time band fucked up his hair on their tour. More Than Worthless is dedicated to Wayne and you can tell it's a tough song for McCombs to perform. Another emotive story and my favourite of the night was about Ryan's dad. His father's answer to everything was 37. Rolling nicely into 37 Stitches.
Musing that it's a Sunday night Ryan is impressed with the turnout and thanks his band, Adam and his audience for joining this flat hillbilly from Indiana on his new musical project. No hills you see! This is my Halo!
Setlist – Redefine – Turn So Cold – Remember – The One – The Only – More Than Worthless – Shame – Woke Up This Morning – Unreal – 37 Stitches – Feel Like I Do – Halo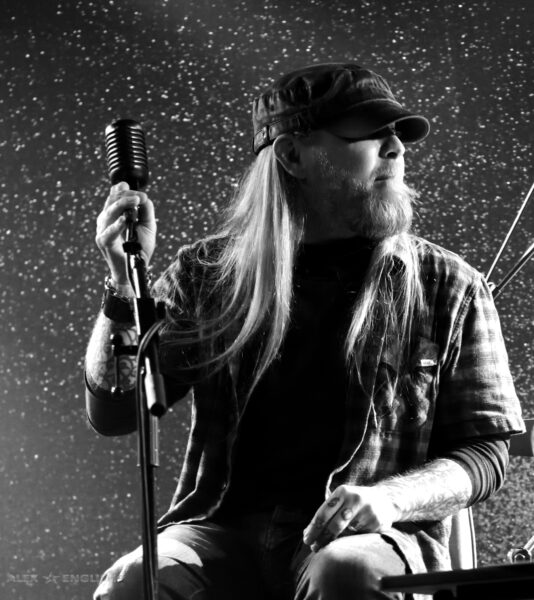 Words and photos by Alex English
Gig date – the 27 November 2022 at Brudenell Social Club Leeds
More photos here – https://flic.kr/s/aHBqjAnLL7
Connect with Ryan McCombs – https://www.facebook.com/OfficialRyanMcCombs
Catch Ryan on his next tour date :