Our favourite Texan rocker Ryan Hamilton and his UK based band The Harlequin Ghosts have just released their second album Nowhere To Go But Everywhere via Stevie Van Zandt's 'Wicked Cool' label.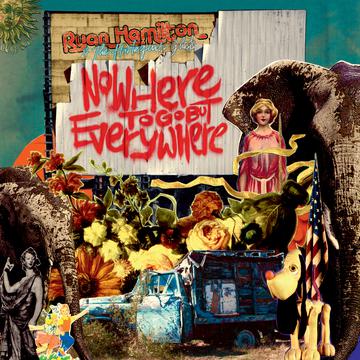 The distance nor the presence of Covid19 and its restrictions has hindered  Ryan Hamilton & The Harlequin Ghosts from completing the production of their latest album Nowhere To Go But Everywhere.  Aided by the technical wizardly of Dave Draper and consisting of 11 moving tracks, the production is smooth like the sound and has some very exciting guests on the album, including Mike Peter's and Kay Hanley.
It's a very personal album and if you follow Ryan Hamilton and his band, you might know that Hamilton isn't afraid to wear his heart on his sleeve.  Going through his divorce last year. Ryan and his dog Peaches embarked on a cross country adventure down Route 66. Where Ryan took a photograph that became the artful backdrop for the album cover.  The intention wasn't to create an album but an album was born from Hamilton's on the road experience and using his writing hero Jack Kerouac, he came to the inspiration for the album title  'Nowhere To Go But Everywhere'. 
Apparently in the USA Ryan's style of bubble-gum pop-rock – which leans more toward country on this album,  is known as 'Americana' and here in the UK, it's simply hauled into the genre of  'Country'. Nowhere To Go But Everywhere has plenty of pedal steel guitar and enough 'whoa &  oohhs'  to make it feel like a country record and there's enough heartbreak that would make Dolly Parton proud of Hamilton's D.I.V.O.R.C.E.
Embarking on a personal journey of self-discovery, from hitting rock bottom to finding his feet again
Ryan's band management and his bandmates were fully supportive of his departure from their usual sound. "It's not Tom Petty or The Rolling Stones, so what's the story, is it hunky-dory" Hamilton has taken influence from many a known band either by using their name or lines from songs they have famously performed and gives the songs Jesus & John Lennon and Oh No, a fun play on words,
It's not the first time Ryan has done this trick. I first heard these witty lines been referenced on Needles & Records off his Hell of a Day album "I got Bob and the Beatles, Tom Petty and The Rolling Stones, yeah Records and needles to remind me". 
Unlike other confessional singers, Ryan isn't quite your Bob Dylan as he tends to have fun even with the heaviest of his songs. We Gave It Hell reminds me of Bruce Springsteen's, I'm On Fire as Ryan's vocals take on a similar rhyme at the intro but then it builds to a Do-Si-So style, barn dance number. 
Like a wave that changes, as it ripples further from its source, the soundwave becomes an echo and as the music on this album, the songs are weighty but the sound is not.
The album rising stars have to be Oh No Feat Kay Hanley, here you get funky lyrics and an upbeat anthemic chorus of  "I like it purple when it rains".  The Strum a-long-beat of Out of My League will have you stomping your feet to the Wurlitzer sound.  Can I Get An Amen is another harmonious number. Ryan's dreamy vocals really suit his cover version of Tom Petty's Southern Accents.
If I had to summarize the feel of this album in one song it would be Blue Öyster Cult – In Thee off their Mirrors album.
Nowhere to go but Everywhere Produced, Mixed & Mastered by Dave Draper
Ryan Hamilton – Vocals, Acoustic Guitar
Mickey Richards – Drums
Rob Lane – Bass
Additional Musicians:
Dave Draper – Guitars, Keys & Programming
Kay Hanley – Backing Vocals 'Oh No'
Emily Ewing – Backing Vocals
Dave Little – Pedal Steel
Ryan Taylor – Hammond & Keys
Carol Hodge – Piano 'Southern Accents'
Ben Marsden – Slide Guitar
Backing Vocals
Mike Peters 'Jesus & John Lennon'
Beth Macari 'Newcastle Charm'
Lesley Stanbury 'Newcastle Charm'
Gang Vocals
Mike Peters, Nick Parker & The False Alarms, Project Revise, Anton Cederlund, Ben Marsden, Rory Hebbleworth, Dave Draper, Rob Lane 
Track lisiting
Only A Dream
Oh no (feat Kay Hanley)
Jesus & John Lennon
Out of my League
Let's Go Slow
Can I Get an Amen
Don't Fall Apart
Newcastle Charm
Southern Accents
We Gave It Hell
Pick Yourself Up
Links to the band:
Facebook https://www.facebook.com/RyanHamiltonandTheHarlequinGhosts/
Website – https://ryanhamiltonmusic.com/
Ryan Hamilton isn't your usual confessional singer, he's given heartbreak a fun poetic vibe. Move over Tom Petty, bubble-gum-country-rock is the new cross over trend!