Following his sold-out UK tour in 2022, acclaimed Texan singer-songwriter Ryan Hamilton has announced a whistle-stop run of acoustic live shows for May and June 2023.
Billed with tongue firmly in cheek as 'The Farewell Tour Part 1', the dates will follow the release of Hamilton's new studio album 'Haunted By The Holy Ghost', which is released on 10th March 2023 via Stevie Van Zandt's record label, Wicked Cool.
Hamilton's tour dates will begin in London on 28th May, before taking in further dates in Huddersfield, Edinburgh Newport and Newcastle.
Having recently been hailed by Spin Magazine as one of the '35 Best Lesser Known Artists of The Last 35 years', the ever-charismatic Hamilton decided to called the tour 'The Farewell Tour Part 1' as his sardonic response to having won a 'Best Newcomer' award from different music publications for each of the past 14 years.
Hamilton said, "Of course, it's partially tongue in cheek. When I see bands like The Eagles plan out ten years of a 'Farewell Tour', I thought wouldn't it be funny to call EVERY tour moving forward, you know, 'The Farewell Tour', 'Farewell Tour: The Sequel', 'Not Another Farewell Tour', etc."
But taking a more serious tone, Ryan continues, "No word of a lie, I've been nominated for some kind of 'Best Newcomer' award every year for the past 14 years and there comes a point where you go "Is this it? Should this be it?" So I'm starting to plan every tour like it could be the last because you just never know."
Looking to build on the success of his 2021 album '1221', which went straight into the UK's Top 10 Indie Albums on the Official Charts, Hamilton's new album 'Haunted By The Holy Ghost' is jam-packed with the unique brand of power-pop-rock-meets-Americana that's earned the Texan a fiercely loyal following on this side of the Atlantic.
Prior to the release of his first solo album in 2015, the critically acclaimed 'Hell Of A Day', Hamilton had already experienced success across North America and Canada with former band Smile Smile.
Hamilton's first album for Wicked Cool, 'This Is The Sound', was released in 2019 and won the Independent Music Awards 'Album of the Year' category.
Its 2020 follow-up 'Nowhere To Go But Everywhere' featured in multiple Top 10 Official Charts in the UK and 'Albums of the Year' polls.
2020 also saw the release of Hamilton's iTunes Americana chart-topping E.P. 'Incommunicado', following his 'Songs & Stories' solo acoustic tour of the UK, just before the pandemic hit.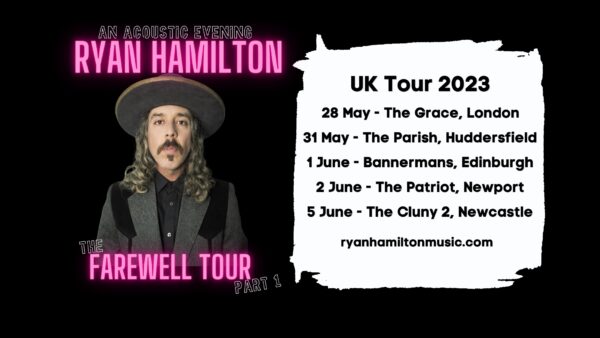 The dates for Ryan Hamilton's 'The Farewell Tour Part 1' are as follows:
28th May London The Grace
31st May Huddersfield The Parish
1st June Edinburgh Bannermans
2nd June Newport The Patriot
3rd June Newcastle The Cluny 2
Tickets are on sale now, available from www.ryanhamiltonmusic.com
Twitter: Twitter.com/theryanhamilton
Instagram: Instagram.com/theryanhamilton
Facebook: Facebook.com/RyanHamiltonandTheHarlequinGhosts
YouTube: https://www.youtube.com/channel/UCzwIppCJzmBo7ftqZtPUE5w