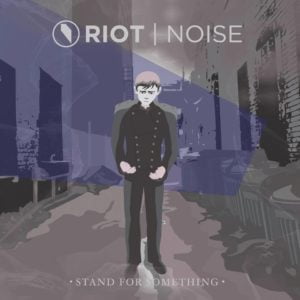 This debut full-length album from Bristollian noiseniks RIOT|NOISE – the follow up to a successful and well-received EP, released back in 2009 – is as impressive a first release as you are likely to come across this year.
'Stand For Something' is a powerful collection of a dozen songs which draw on elements of sleaze and glam as much as they do from punk and modern metalcore, with the result lying somewhere between the Sunset Strip strut of Ratt, the New York street punk of New York Dolls, the Euro-trash swagger of Hanoi Rocks and Cherry Bombz and the spunky Brit snarl of the likes of Lords Of The New Church, Dogs D'Amour and The Wildhearts.
Crammed with memorable hooks, fuck-you guitar licks and hummable melodies, this is a noisy riot of an album, which draws you in immediately and holds you in its welcoming embrace for the duration, and beyond.  The songs are tight, efficient and immediate, with not a wasted note or lyric and the performances are exemplary:  the guitar duo of Scott Stubbs and Asley Pocock twist and writhe with the passion of the best combos, while vocalist Marty has an amazing voice – versatile and emotional.
By and large, the album powers along at a cracking pace, with the likes of lead single 'Guidance', 'We'll Bring You Down' and 'Save This' guaranteed to fill dance floors up and down the land, with the foot being taken off the pedal only once, for the broodingly brilliant 'This Sinking Ship'.
'Stand For Something' is further proof that the British rock scene, at grassroots level, is vibrant, vital and capable of producing fine young bands who epitomize and encapsulate both these qualities without falling into the staidness of capitulation to the mainstream copycat route so many 'big name' acts seem content to follow.
Track list:
Who's Your Jesus
Rage You Know
Guidance
Broken Nails & Bloody Fingers
Dead Behind The Eyes
We'll Bring You Down
Break The Silence
The Uprising
Choices
This Sinking Ship
Save This
Smiles Fade Behind
'Stand For Something' is released on SmackJaw Records tomorrow (Monday June 3rd).
Find out more about RIOT|NOISE at their official facebook page:  https://www.facebook.com/riotnoise