CHEAP TRICK (Saturday Planet Rock Main Stage Special Guest) – Rock N' Roll Hall of Famers are coming to Ramblin' Man Fair. Cheap Trick may be one of the most covered bands of all time. Since the 70's they've been blending elements of pop, punk and even metal in a way that is instantly catchy and recognizable. With timeless classics, such as "I Want You to Want Me", "Surrender", and the late 80's favorite "The Flame" they've sold over 20 million records and are a musical institution and we can't wait to see them tear up the main stage on Saturday night.
INGLORIOUS (Sunday Planet Rock Main Stage) – Rock five piece Inglorious are the rising stars of today's British music landscape. With three studio albums, multiple headline and support tours, critical acclaim across the media and a loyal and fanatical fan base, the band is one of the most exciting and vital UK rock acts to emerge in years. Inglorious recently changed line up welcoming three excellent players: Danny Dela Cruz, Dan Stevens and Vinnie Colla joined the charismatic frontman Nathan James and the relentless drummer Phil Beaver. All at Ramblin' Man are thrilled to be able to announce them for this year's Fair!
CHEAP TRICK(Saturday Main Stage Special Guest) , INGLORIOUS (Sunday Main Stage),JIMMY BARNES (Saturday Main Stage),FM(Friday Main Stage),WAYWARD SONS (Saturday Main Stage),SWEET CRISIS (Blues Stage),KING CREATURE (Grooverider Stage),RAVEN EYE (Saturday Main Stage)join already announced bands including Rock legends FOREIGNER(Sunday's Planet Rock Main Stage Headliner), BLACK STONE CHERRY (Saturday's Planet Rock Main Stage Headliner), American blues singer/songwriter BETH HART (Blues Stage Headliner), Prog in the Park HeadlinerANATHEMA, THE DARKNESS(Friday Planet Rock Main Stage Headliner),AIRBOURNE (Sunday Main Stage Special Guest), MONSTER MAGNET(Grooverider Stage Headliner),
THE WILDHEARTS(Friday Main Stage Special Guest), LIVING COLOUR(Main Stage), JESSE DAYTON (Outlaw Country Stage),KOYO (Prog in the Park Stage), THE TEMPERANCE MOVEMENT (Main Stage),UGLY KID JOE(Main Stage)and EVERLAST (Blues Stage),ORANGE GOBLIN(Grooverider Stage), CROBOT(Grooverider Stage), OBSESSED(Grooverider Stage), ROBERT JON AND THE WRECK(Outlaw Stage) and CHRIS ROBINSON BROTHERHOOD as well asmore prog acts including Swedish act Pain of Salvationand polish prog giants Riverside. Also a wave of new rock talent including Kris Barras, Allman Betts Band, The Lazys, Austin Gold, Vola, Scardust, Wille & The Bandits, Elles Bailey, Chantel McGregor, Gin Annie, Outlaw Orchestra, Cellar Door Moon Crow, Fallen State, Dust Bowl Jokies, Rainbreakers, Matt Mitchell &The Coldhearts, Salvation Jayne and Ryders Creed.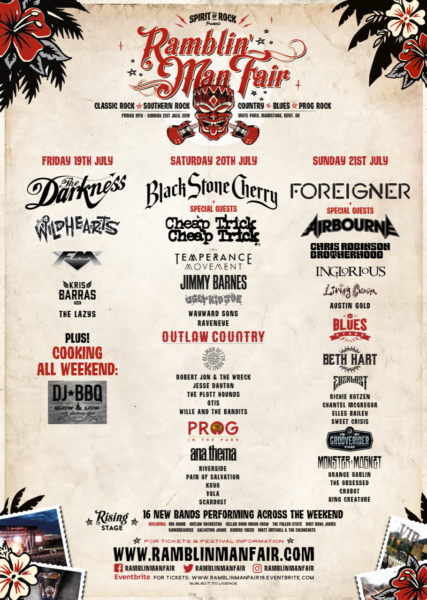 2019 Line Up so far……..
Friday 19thJuly 
Planet Rock Main Stage
THE DARKNESS 
The Wildhearts
FM
Kris Barras
The Lazys
Saturday 20thJuly 
Planet Rock Main Stage
BLACK STONE CHERRY
Cheap Trick
The Temperance Movement 
Jimmy Barnes
Ugly Kid Joe
Wayward Sons
Raveneye
Outlaw Country Stage
ALLMAN BETTS BAND
Robert Jon & The Wreck
Jesse Dayton
The Plott Hounds 
Otis
Wille and the Bandits
Prog in the Park Stage
ANA.THEMA
Riverside 
Pain of Salvation
Koyo
Vola
Scardust
Sunday 21stJuly
Planet Rock Main Stage
FOREIGNER 
Airbourne 
Chris Robinsoon Brotherhood
Inglorious 
Living Colour 
Austin Gold
Blues Stage 
BETH HART 
Ritchie Kotzen
Elles Bailey
Everlast
Chantel McGregor
Sweet Crisis
Grooverider Stage
MONSTER MAGNET 
Orange Goblin
Crobot 
Obsessed 
King Creature
Saturday 20thand Sunday 21stJuly 
Rising Stage 
Gin Annie
Outlaw Orchestra
Cellar Door Moon Crow
Fallen State
Dust Bowl Jokies
Rainbreakers
Salvation Jayne
Ryders Creed
Matt Mitchell & The Coldhearts
Ramblin' Man Fair is the must see event for discerning festival goers. A quality musical line up with a number of UK exclusive performances. The event is a unique experience fast becoming a staple of the UK festival calendar.
The festival will take place in the beautiful Mote Park in Maidstone, Kent – the garden of England. The park is one of the largest in South East England with more than 450 acres of mature parkland and a 30-acre lake. With multiple travel links via train (Ashford International, Maidstone East and Maidstone West in close proximity) and road (with three park and rides available around Maidstone). The festival site is also perfect for European festival goers with easy links to the London airports, Eurostar via Ashford Int'l and Channel Ferries to and from mainland Europe.
Ramblin' Man Fair will take place on 19th, 20thand 21stJuly.
Tickets are available at the link below:
https://www.eventbrite.co.uk/e/ramblin-man-fair-2019-tickets-47828900529
To keep up to date with all Ramblin' Man Fair announcements please like, follow and visit us:
www.ramblinmanfair.com
www.twitter.com/RamblinManFair
www.facebook.com/ramblinmanfair