For me, Saturday at Ramblin Man started with a quick trip to the VIP area to see Bad Touch doing an acoustic session for the VIP ticket holders. They'd got a big crowd and their short set sounded great.
Over on the Prog stage, Israeli band Scardust were the first band playing in the main arena. Located by the main entrance they benefitted from arriving fans coming in to check out the band, so the tent was busy. Singer Noa Gruman throws her hair around when not singing and is by far the most active member of the band as the others were fairly static as they play. I only saw a few songs of their set but enjoyed what I heard. If anything it seemed maybe slightly too varied but this is definitely a band worth checking out.
Raveneye opened the main stage today. Normally I'd have said they were a great addition to the bill but the lineup today is so strong that of the bands I saw these were actualy the weakest. That's not to say they were bad – they aren't, it's just that they were outclassed today. Despite that it's a good solid performance.
Wille & the bandits are a great live act that I've seen several times, so I made sure I headed over to the Outlaw country stage to watch part of their set for some great blues rock. They never disappoint and today is no different.
I briefly popped in to the Prog tent to check out KOYO on my way to the main stage. I didn't have long but this Leeds based band certainly sounded good and had a decent sized crowd enjoying their music.
Wayward sons are the current band of Little Angels singer Toby Jepson. That fact alone is enough to get plenty of people to come along and check them out, and along with the curious there were clearly quite a few fans in the crowd too. While I'm not as fond of the band as I am of Little Angels, they're still a great band and a really good choice for the festival and it's no surprise at all that they go down very well with the crowd.
On the Rising stage, Collateral had drawn a substantial crowd. They'd earned their spot on the bill after a battle of the bands process lasting several weeks at Big Red in London and it was clear some of the fans who had seen them there were here to support them. Their singer Angelo is a striking sight with his long hair and long custom made coat, but the image isn't the important part – the sound is, and that's where Collateral excel. Their "4 shots" EP released last year is excellent and the band are even better live. They've got the songs and the stage presence that suggests they'll be playing far bigger stages in the near future.
Ugly Kid Joe took to the main stage with quite a laid back style. Yes Whitfield Crane was quite active but nowhere near as active as he's been in previous shows where I've seen them. That doesn't matter though when you've got songs like "Cats in the Cradle" and "Everything About You" that are guaranteed crowd-pleasers and they certainly go down well here.
As I had some spare time before I needed to be back at the main stage I headed over to the Outlaw country stage to check out Robert Jon & the wreck. It was a tough choice though – on the rising stage was the excellent Cellar door moon crow (odd name but great band) but as I've seen them a couple of times already I thought I'd listen to someone new, and I'm glad I did as Robert Jon and the wreck were excellent. More rock or southern rock than country they're a band well worth checking out.
Australian singer Jimmy Barnes demonstrated that he's still got one hell of an impressive voice. Born in Scotland he moved to Ausrtalia as a child and is now regarded as an Australian music legend (and indeed the next day, Airbourne told us that he was a legend and someone they admired). His career goes back as far as the early 80s and he's stil going srtong. He's got a good band with him plus three backing singers and puts in a very impressive performance. I must admit I'd never really listened to him before but on the strength of this set I'm going to have to listen to some of his albums.
Before today I'd never listened to Jesse Dayton's music (or so I thought). The Texan guitarist has worked with the likes of Johnny Cash, Willie Nelson, Waylon Jennings and more. As he mentioned during his set he also wrote songs for the soundtrack for the Rob Zombie film "The Devils rejects", so I had actually heard some of his music before. When he introduces a song as "here's a nice murder ballad" you know it's something a bit out of the ordinary. It's a great set – Hillbilly Honky-tonk. It's a great example of what makes Ramblin Man such a good festival – music many of us would probably never have normally listened to but which when we hear it sounds great.
On the rising stage, one of many Midlands bands were playing – Ryders Creed. They signed to Off ya rocka recordings after winning the Highway to hell competition that also saw them play other HRH events. They've been earning a great reputation and their performance here today demonstrated that they are a band to keep an eye on.
The Temperance Movement take to the stage and Phil Campbell spends his time bouncing, spinning and jumping around the stage as well as singing. He's got a great voice and knows how to entertain a crowd (removing his shapeless top and singing shirtless for one song before donning a Tshirt seemed to go down well with the ladies). The rest of the band are less active and just focus on their playing. With a strong catalogue of songs it's a great set in the afternoon sunshine.
The Allman Betts band were a band I'd been looking forward to seeing since hearing their album. Formed following Devon Allman and Duane Betts touring together as the Devon Allman project, this band features three sons of Allman brothers band members, and they're all talented musicians in their own right. Obviously with just one album out they baed much of the set around that, plus included a nod to their legacy with some Allman brothers songs. A big surprise was the inclusion of a cover of the Prince classic "Purple rain". It sounded fantastic but was certainly unexpected. Another surprise was Ben Wells from Black Stone Cherry joining them on stage for a song.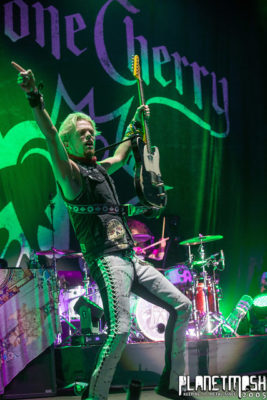 Cheap Trick were next on the main stage. I last saw them supporting Def Leppard where I enjoyed their set but tonight they seem so much better. Robin Zander's vocals sound great and Rick Nielsen does a great job on guitar and somehow manages to throw hundreds of picks out during the set – I've never known any guitarist use so many picks. He even grabs a handful of them at one point to throw out into the crowd. Hits such as "I Want You to Want Me" and "Dream Police" go down extremely well as does the rest of the set.
Kenny Wayne Shepherd headlined the Outlaw country stage with a two hour set. His new album "The Traveler" came out around 6 weeks ago and is a great album, so it's no surprise to hear some material from the album tonight. I've seen him play live several times and I'm always left impressed by his guitar playing as well as how good the songs are, and tonight is no different. He never lets the solos overpower the song – there are great solos but only where they suit the song. Sadly I had to miss the last 45 minutes of his set in order to head over to the main stage to photograph Black Stone Cherry.
Black Stone Cherry were tonight's headliner. They headlined a couple of years ago and are back to do it again. Their hard work and great music has seen them playing bigger and bigger venues and they've now outgrown anything smaller than arenas, and it's probably only a few years till they're big enough to headline festivals like Download, so it's good to see them still playing Ramblin Man.
It's one hell of a strong set, kicking off with "Rain wizard", "Me and Mary Jane" and "Blind man". Later in the set they include a bit of Jimi Hendrix ("Purple Haze") during "Cheaper to drink alone". Favourites such as "White trash millionaire" and "Blame it on the boom boom" come later in the set, and after ending with "Family tree" they give us "Peace is free" as an encore.
While Chris Robertson stays fairly static as he's doing the vocals and needs to be by the mic, Benn Wells and Jon Lawhon are a blur of energy as they race from one side of the stage to the other, and Ben Wells in particular leaps around, high kicks and generally burns off more calories during their set than most people do in a visit to the gym. It's a fantastic set and a great end to a day packed full of top notch bands.