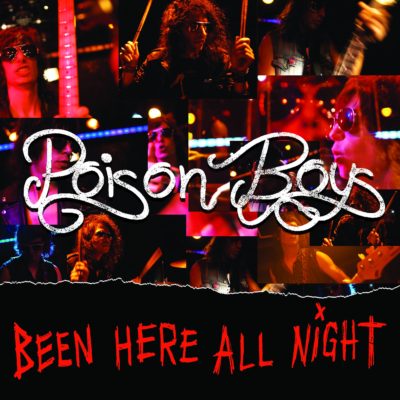 Chicago glam-punks Poison Boys start their year with a bang with the release of their scuzzy new single 'Been Here All Night'. The stomping track is lifted from last year's triumphant debut LP Out Of My Head (via Dead Beat Records), and follows sold out hometown and West Coast shows. The raucous, sleazy rock strut of Been Here All Night showcases their wall of sound distortion alongside sweet glam-pop hooks and is on all streaming platforms now.
"'Been Here All Night' is about falling in love with someone in the midst of chaos and finding out that the other person feels the same," explains frontman Matt Dudzik. "It's about going for something just to try it, and finding out it works. To be literal, it's about getting to a party, meeting someone you really like there and finding out that they go for you too. You ended up staying "all night" as the time flies by just being with them."
According to who you talk to, Rock n Roll is either dying out, evolving, or back in full swing. In the case of the Poison Boys from Chicago, they're pumping new life into the genre and keeping it as Punk as possible. Staying true to the sounds of late 1960's/early 1970's protopunk bands like the Stooges, the New York Dolls, and the Flamin' Groovies, and mixing them with late 1970's New York and UK punk bands like the Heartbreakers, Dead Boys, Vibrators, and Slaughter and the Dogs, with a little Hanoi Rocks glam thrown in for good measure, the band is a breath of fresh air in today's finely polished and commercially airbrushed Rock and Alternative scene.
Find Poison Boys at: 
instagram.com/poisonboysofficial 
now