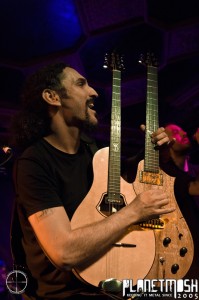 The Mars Chronicles and Klone were the first two bands of the night. To be honest neither really were my cup of tea. While both were both technically good bands, they lacked that 'umph', or something remarkable. Some sections were either too generic or a bit maidenly – that might seem a bit harsh but it really takes a lot for clean vocals to appeal to me and it just didn't happen with the Mars Chronicles. Klone, are a demonstration structured and articulate, nearly ethereal music and are definitely heavier than The Mars Chronicles, I just found it hard to give them my full attention. Hindsight is a tough mistress though – having listened back to Klone's material I wish I did pull it together to give them that time and attention. Performance wise both bands played without a glitch and had a good rapport with the crowd. As was the tradition on the night all the band members got on stage at the end of their sets to participate or to just cause havoc – pretty fun to watch I must say.
The third band of the night, Khalas took the stage. Their inclusion on this tour is pretty monumental. Perhaps that comes off as patronising but as they are a Palestinian band touring with Orphaned Land, hailing from Israel, I would say that's a pretty big step in the right direction for world peace right there! Definitely one of the most entertaining bands of the night.
Their music is bizarre but charming at the same time. Khalas are doing similar things to what Orphaned Land is doing- they include the traditional and cultural in their form of Metal to make a truly unique creation.  Their music is entertaining and boisterous. Toward the end of their set, again, everyone joined them but for Khalas it wasn't people being thrown off the stage – rather it was carpets. They definitely know how to laugh at the stereotypes applied to them.
The arrival of Orphaned Land on stage was comparable to the return of the prodigal son or even the Messiah.  When you look and Kobi Farhi on stage it's hard not to be taken in by his unique appearance. Aesthetically he has the look of a prophet.
There is something truly endearing about the music of orphaned land. The tone of their music, by its nature is uplifting. Those oriental scales and their Middle Eastern influence make for a robust and eloquent sound. The title track from new album, 'All is one', demonstrates how complex yet accessible Orphaned Land can be.  Yes, they maintain their integrity as a band by staying through to their roots but they still manage to stay close to the nucleus of metal music by perpetually incorporating hooky riffs and impressive solos.
All is One is different to their previous albums. Instead of the kind of epic, long winded tracks that Orphaned Land are known for. This album is strong but well-built and importantly it translates well on stage. There are very few sights greater than that of Yossi Sassi on stage with his double headed guitar – (Yossi informed us after the show that it is called a Bouzoukitara) .
Orphaned Land put on a great show and the message that they try to get out there about acceptance and breaking down the barriers between religions is definitely not falling on deaf ears judging by the crowd they pulled in. Definitely a band to put on your 'before I die', list. Of Course like the other entire band that played on the night, everyone got up on stage toward the end of their set
[amazonmp3 asin="B00D7D9MBK"]