One thing that really galls fans in this tiny corner of planet mosh known as Northern Ireland is the number of artists who ignore/omit "our wee country" from their touring schedules… Now, we admit (and fully understand) that there are a number of mitigating factors – not the least of which are the additional financial burden posed by the small stretch of water between us and the rest of the UK – but it does get our collective goats nonetheless.
So, when it was announced that Europe would not be joining Foreigner and FM on their jaunt to this side of the Irish Sea, there was considerable disappointment expressed – disappointment which led to many fans actually not buying tickets for this Belfast gig but instead incurring the personal expense of travelling to London or elsewhere to catch all three bands (well, if the bands won't come to the fans, to paraphrase a well-known saying…)…
However, there is another saying about one man's loss being another's gain, and the failure of Mr Tempest and company to revisit a city they had last played on their 'Out Of This World' tour back in 1989 opened the door for recently re-united local heroes No Hot Ashes to return to a hometown stage for the first time in, well, almost as many years.
The Ashes automatically face the challenge of opening an all-seater gig, with audience members constantly being shown to their pre-selected pews during their paltry 25-minute slot – but this does not stop the band, and their pockets of diehard fans (and family members – singer Eamon Nancarrow's young children are just a few rows from the stage and brimming with nearly as much excitement as their pater) scattered throughout the arena enjoying every second of this reinvigorated spotlight.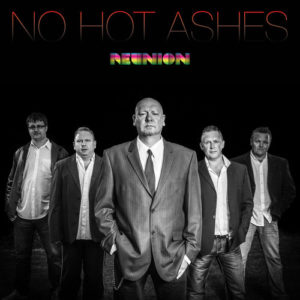 Opening with the highly appropriate and catchy I'm Back, the five piece also battle an extremely unsympathetic sound mix – keyboardist Tommy Dickson is totally inaudible for the first three songs, while the vocal harmonics are almost totally lost – to deliver a set which is nevertheless hugely rewarding for everyone concerned:  each musician (apart from the characteristically concentrative Steve Strange) is grinning from ear to ear, and the contingents of fans are singing along to every word of the likes of Summer Rain and the boisterous Diane.
The guys may not be the spring chickens they were when they attempted their first crack at fame, but with a renewed fire in their collective bellies – and some pretty influential backing (not least behind the kit), No Hot Ashes may well be back to stay and not going away… besides, Eamon has another book to write, doesn't he?
The 'Reunion' EP is available for free download from https://soundcloud.com/no-hot-ashes-reunion
No Hot Ashes play the Pepsi Max stage at Download on Friday 13 June.
https://www.facebook.com/nohotashesreunion
Live photograph, by Sean Larkin, taken at HRH AOR2 (http://planetmosh.com/no-hot-ashes-hrh-aor-2-22032014/)