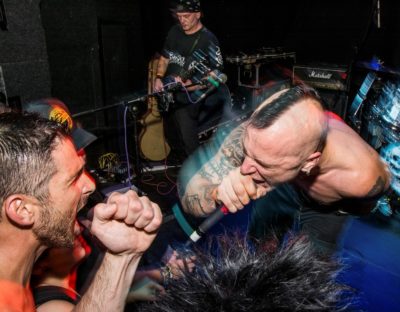 Lost Data Productions, an independent, DIY collective that promote underground / alternative bands through filming, documenting, live streaming bands on the UK underground circuit are to release a documentary on the iconic punk band DISCHARGE!
One of the original UK hardcore / UK82 punk bands, Discharge exploded onto the UK punk scene at the start of the '80s with their signature hardcore sound, political lyrics and heavy pumping, d-beat style. The band cemented their place in history for introducing the world to the d-beat, now a household drum beat for bands from punk rock to thrash and extreme metal. The d-beat itself spawned a movement of countless bands such as the Varukers, Doom and Anti-Cimex.
A truly legendary band, Discharge have influenced countless bands, not only in the punk scene, but they are also cited as being a big influence to heavy weights such as Metallica, Sepultura, Anthrax, Napalm Death and Machine Head.
The documentary follows the band through 3 of their UK gigs between 2015-2019,  featuring exclusive interviews with the band – giving an intimate insight into their journey through punk rock over the decades – and featuring extensive live footage from gigs at London's the 100 Club, T-Chances, and Bristol's Exchange.
Filmed in full HD, the release is a special 2-disc box-set (DVD + BluRay), which comes with a bundle of extras including stickers, hi-res images and an A2 poster!
After having documented a vast amount of gigs on the UK gig circuit since 2012, this is our first physical release, and the first of several documentaries in the series "Legends of Punk".
The documentary is available to pre-order now from:
https://ldpshop.bigcartel.com/product/pre-order-legends-of-punk-vol-1-discharge-dvd-bluray
Teaser trailer:
https://vimeo.com/359873343