MYLES KENNEDY RELEASES LYRIC VISUALIZER FOR PENSIVE BALLAD "LOVE RAIN DOWN" FROM UPCOMING SECOND ALBUM 'THE IDES OF MARCH'
'THE IDES OF MARCH' OUT MAY 14TH VIA NAPALM RECORDS: PRE-ORDER HERE
With the release of his second solo album just a week away, MYLES KENNEDY showcases the musical diversity of The Ides Of March (out May 14, 2021, via Napalm Records) with the unveiling of the pensive ballad "Love Rain Down". The song showcases the softer side of the upcoming album. 

The genesis of the track has been around for years and is reminiscent of what fans and critics were drawn to on his debut solo album Year Of The Tiger. The acoustic introduction builds until the band – drummer Zia Uddin and bassist/manager Tim Tournier – joins in on the second verse and rides out the rest of the track. Lyrically, Myles delivers a plea born out of the longing for answers and solace from all of the dark possibilities of the day as he sings "Let your love rain down. Let it wash away the sorrows I've found."Watch the visualizer for "Love Rain Down" HERE:
While Year Of The Tiger was more of an acoustic exploration through Myles' mind, The Ides Of March finds him strapping on his electric guitar and pushing himself as a guitarist/songwriter. The Ides Of March was produced by longtime collaborator Michael "Elvis" Baskette. Prior to his latest song, Myles released album-opener "Get Along," the title track and longest song on the album "The Ides Of March" and the hit-single "In Stride".
The Ides Of March is available for pre-order now in various standard and limited edition configurations across CD, digital, and vinyl formats, plus a special deluxe box set.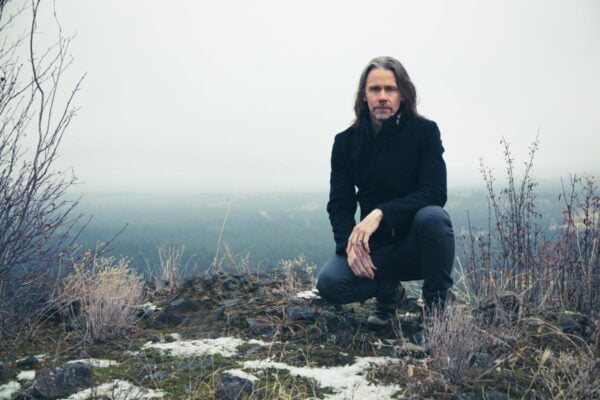 "Merging lyrical nonchalance with the instrumental buoyancy of country and the emotional rawness of blues makes for a powerhouse of sanguine musicality. Keep a ladder handy so that you can retrieve your socks from a nearby telegraph wire when you're done." – Classic Rock

"One of the most technically proficient vocalists in modern rock… as soon as Myles's honey-coated, burnt-oak tenor massages itself into your ears, your head will be nodding along." – Metal Hammer

"There's only one word to describe this album and that is 'sublime'." – Powerplay
About MYLES KENNEDY: At this point, MYLES KENNEDY's voice precedes him. Certainly, it courses through six chart-topping albums from gold-selling rock juggernaut Alter Bridge, three records with Slash and The Conspirators.

Two albums from The Mayfield Four, his 2018 solo debut Year of the Tiger, and guest appearances for everyone from Disturbed and Halestorm to Gov't Mule, Sevendust, Mark Morton, and Darryl "DMC" McDaniels. For as much as he remains renowned for his skyscraping timbre and earth-quaking bluesy wail, his musicianship also encompasses eloquent songcraft, thoughtful cinematic arrangements, and, of course, dynamic guitar fireworks as explosive as his astounding vocal range. MYLES KENNEDY burst on the music scene in 1990; but it wasn't until 1995 through his band The Mayfield Four, that he gained some notoriety. It was when The Mayfield Four toured opening for hitmakers Creed that MYLES KENNEDY would meet Mark Tremonti, Brian Marshall and Scott Phillips.

This meeting would eventually lead to the formation of Alter Bridge, the band that would become Myles' calling card to the world. In 2008, the legacy of MYLES KENNEDY was circling the music industry and eventually found its way to members of Led Zeppelin. A now legendary story, Myles was asked to jam with Jimmy Page, John Paul Jones and Jason Bonham for a potential project that never materialized. In 2009, Guns N' Roses guitarist Slash was working on a solo project and tapped Myles Kennedy to do vocals on two songs on that release. That partnership would lead to Myles becoming the vocalist for his other rock band, Slash featuring Myles Kennedy and The Conspirators.

This relationship would also lead to MYLES KENNEDY singing for the iconic Guns N' Roses at their Rock & Roll Hall Of Fame induction in 2012 after band founder Axl Rose was unable to attend. Through Myles' various projects, he has appeared on The Tonight Show; Jimmy Kimmel Live; Conan; has had music used by the WWE, Major League Baseball and NASCAR to name a few; and appeared in the motion picture Rock Star. 2018 marked a new chapter in Myles' career when he released his long-awaited debut solo album, Year Of The Tiger, to critical and commercial success.

With his new solo album, The Ides Of March, MYLES KENNEDY showcases the talent that has made him one of the premiere frontmen of modern music today.