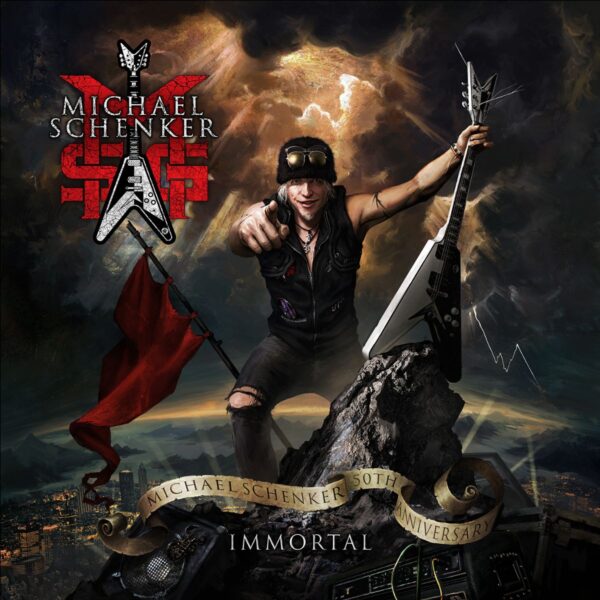 Michael Schenker celebrates his legacy and 50th anniversary as a musician by reforming MSG to release their eleventh studio album, the aptly titled Immortal and he announces that "I'm 65 now but still 16 in my head".
The album has just been released by Nuclear Blast Records and all ten tracks are truly all killer, no filler! Opener 'Drilled To Kill' is a dizbusting driller killer that flies out of the starting blocks on a drum driven tirade of power metal. A lung busting lead vocal from Ralf Scheepers and lead guitar mayhem from Michael make for a heavy start.
Joe Lynn Turner steps up to sing on 'Don't Die On Me Now'. He puts his stamp on this hard rocker with some sumptuous melodies. An earworm main riff, snare drums snap hard in the choruses and Michael makes every note count in his melodic solos making for an early album highlight.
Another vocal change sees Ronnie Romero bellow along to the hard and heavy rage set by the band to keep the metal bar set high by 'Knight Of The Dead'.
After all this bombast, Michael Voss pours out his soul for the scintillating power ballad 'After The Rain'. It floored me for a heartbreaking four minutes as Michael adds the icing to the cake with some serious string bending.
A cataclysmic kick drum battery propels 'Devil's Daughter' along with the band playing on eleven to shake my headphones with more pulverizing power metal. Melodic choruses are the calm before the storm guitar solos.
Ronnie Romero returns to the mike to belt out 'Sail The Darkness'. It ebbs and flows on vintage Rainbow like moods to make it my favourite track here.
'The Queen Of Thorns And Roses' is a quirky little rocker with no frills as it drives along on some gritty riffing and a totally captivating lead vocal as melodies soothe from start to finish.
'Come On Over' is a sturdy rocker with a main riff that could stop King Kong in his tracks.
Galloping rhythms reflect the Western tinged lyrics and tempos as 'Sangria Norte' rides the range with all guns blazing!
We travel way back in time now, 1972 in fact to the Lonesome Crow album, the only Scorpions album to feature Michael as a full time member that featured the track 'In Search Of The Peace Of Mind' and Michael has re-recorded it for Immortal.
It's still an epic to end all epics and I had it on repeat plays to compare the two versions. It's a heavier take on the original but not enough to dominate its finer points. Lead vocals are out of this World and the guitar work is sheer perfection as Michael quotes, "I composed this track in my mother's kitchen when I was fifteen. The solo is just so perfect, I would not change a single note, even today. It's the most important song of the last fifty years for me. It's what started all of this".
Michael Schenker links can be found here :- http://michaelschenkerhimself.com
Immortal album track listing :-
Drilled To Kill.
Don't Die On Me Now.
Knight Of The Dead.
After The Rain.
Devil's Daughter.
Sail The Darkness.
The Queen Of Thorns And Roses.
Come On Over.
Sangria Morte.
In Search Of The Peace Of Mind.
The trademark Flying V of Michael Schenker is victorious!