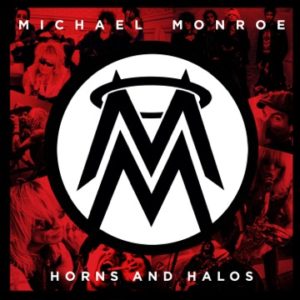 Michael Monroe is back with his follow up to 2011's wonderful "Sensory Overload" and despite there is no Ginger Wildheart this time around  we do have the more than capable Dregen from Backyard Babies trading licks with Steve Conte in the guitar duty department on "Horns And Halos".
Opening with a bang 'TNT Diet' shows that Michael is back and means business with this short sharp rocker before launching into a classic Monroe track and I'm sure what will become a  live favourite 'Ballard  Of The Lower East Side'. Michael's complaint against the gentrification of the Lower East Side of New York an the lack of "Junkies, pimps and whores" as I said classic Monroe.
The highlights of this album come think and fast, very fast as the longest track is only 4min 21 seconds long an there is only one other track over 4 mins in length! The brevity of the tracks in no way distracts from showing how good a song writer Michael is just think of it as concentrated awesomeness, as slab after slab of pure rock energy is unleashed from the groves of the tracks by Mr M and his talented band of musical troubadours. Highlights include the stomping "Child of the Revolution" the almost reggae style break down of the title track 'Horns And Halos' before it picks up the pace again or the Ska style parts from 'Soul  Surrender' all of which the band pull off seemingly effortlessly and with so much style.
There is no question that this is a superb follow up to 2011's "Sensory Overload" and clearly designed to be played live where the songs will take on even more life and the fans will lap it for sure. If you've never seen Michael Monrore before now would be a very good time ( especially as he's about to embark on a world tour) to see him as despite four decades of rocking around the world he is clearly still on top form and with no intention of resting on his laurels any time soon!
If you like your glam/sleaze style music this album should be at the top of your shopping list as it shows Michael at his best and is an excellent follow up to Sensory Overload and I give it 9/10
Track listing:
1 TNT Diet
2 Ballad Of The Lower East Side
3 Eighteen Angels
4 Saturday Night Special
5 Stained Glass Heart
6 Horns And Halos
7 Child Of The Revolution
8 Soul Surrender
9 Half The Way
10 Ritual
11 Hands Are Tied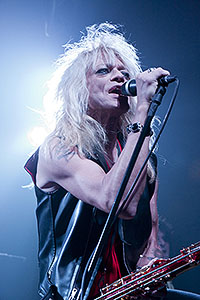 Band:
Michael Monroe Vocals, Saxophone, Harmonica
Steve Conte Guitar
Dregen Guitar
Sami Yaffa Bass
Karl 'Rockfist' Rosqvist Drums
Website: www.michaelmonroe.com