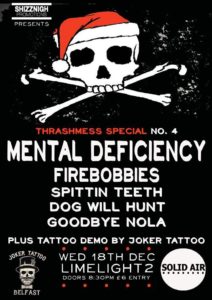 'Twas a the week before Christmas and all through the house not a creature was stirring… but 'round the corner in the Limelight all manner of mayhem was taking place, as the holiday season turned into a right ol' Thrashmess…
With the ambient, grungy pop of Goodbye Nola entertaining but not to PM's taste, a Slayer-infused opening riff introduced the twin guitar harmonies and proper melodic dirtcore of Spittin' Teeth, who brought a few diehard fans to the floor, where they were promptly joined, in the best hardcore tradition, by vocalist Corin Gillespie in a good old-fashioned throwdown.  The band's delivery is confident, as is their command of the stage, and the songs are well-constructed, with the right mix of ass-kicking rhythms and mosh-inducing melodies.
https://www.facebook.com/spittinteethDIRT
Firebobbies deliver infectious hooks combined with indie-infused punky melodies:  but, their problem is, that while they have a solid middle-of-the-road rock sound, vocally they cannot make up their minds up, as they veer between solid pop rock and insipid rocky pop.  But, they are an interesting enough diversion before tonight's main attraction.
https://www.facebook.com/firebobbies
Mental Deficiency are a band that are hard to categorize – and therefore all the more appealing for that… with the five members literally masquerading behind noms-des-plumes such as Mr Majestic – the vocalist, or 'Star Siren', who performs in a skintight red lycra catsuit and matching gold lame jacket and trunks – Bass Face and Shred Head (who wear luchadore masks and pajama bottoms), they are hard to take seriously… and you're not really supposed to as all these five guys want to do is entertain.
There are serious messages behind the insanity, such as on 'Patriot', and when you look behind the costumes and the histrionics – such as Shred Head climbing on any surface he can find and Majestic's laughable simulated sex scene during 'Introduction To Seduction' – there is a decent collection of riff-driven tunes which are as enjoyable as the tongue-in-cheek image and show which accompanies them.
https://www.facebook.com/mentaldeficiencyband
Spittin' Teeth play the New Year Hardcore event at Belfast's Warzone Centre (with Defyed, By Any Means, Hollow Truth and Beneath The Wheel) on Sunday 29 December:  https://www.facebook.com/events/179558052239284/