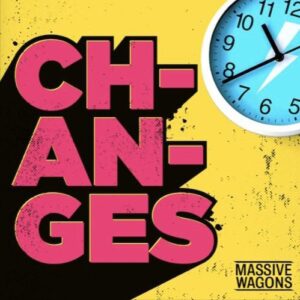 To borrow a song title of 'Feel Good Hit Of The Summer' from QOTSA, with their brand new single 'Changes', Massive Wagons have brought the summer vibes a few months early and it's more than welcome to say the least!
They've dedicated it as "This one is for the fans", point proven by the opening verse of "We made a lot of noise over the years, was anybody listening it's still not clear. But it's a nice place being in your face. So thanks for sticking with us, thanks for still being here. Good memories are just life's little souvenirs".
It's three minutes of them at their heaviest and also their poppiest backed by a video that sees themselves hamming it up for an hilarious game of football. Sumptuous melodies breeze through the verses and they tug on the heart strings even more during the choruses as lead vocalist Baz Mills pitches higher on the pitch so to speak. The riffs are hard and heavy and if you don't sing along to the "Whoa oh oh" outro then you're all substituted! 'Changes' is currently available on all major streaming platforms including iTunes, Apple, Google and Amazon.
Band and purchase links are here :- https://www.facebook.com/MassiveWagons ……….https://amazon.co.uk/changes-massive-wagons/dp/B0911ZLTMJ/?tag=plane09-21
Massive Wagons band line up :-
Baz Mills – Lead Vocals.
Adam Thistlethwaite – Guitar.
Stevie Holl – Guitar.
Adam 'Bowz' Bouskill – Bass Guitar.
Alex Thistlethwaite – Drums.
As if their songwriting could not get any more intense!