Sweden consistently produces and exports very fine quality extreme metal, and their Manegarm is no exception. Compared to the band's previous releases, this one will appeal to a wider audience, both because of the more universal English language, and a greater emphasis on mid-tempo crushers. The songs are very dramatic, very emphatic, and very evocative. The tunes heard on 2013's Legions Of The North, released through Napalm Records, seem to be rallying cries, both highly traditional or clannish, and fiercely modern. The band has managed to create some truly jaw-dropping sonic landscapes, where one can actually picture the scenes unfolding as the songs play, similar to watching a soundtracked movie.
The production is sizzling and trebly. It's plenty heavy, plenty articulate, and does scale well at high volume. When listening, the extreme metal bands brought to mind are Finntroll (early), War, Hypocrisy (early), and/or Immortal (the slower segments). Recalling AC/DC and Metallica (is that an "Orion" lick?) wouldn't be too far off the mark during certain passages. The album hits a compositional peak during "Eternity Awaits" and "Hordes Of Hel". What you're hearing and enjoying is that contemporary rock songwriting techniques have been applied to anthemic European metal.
Vocals run the gamut from a deep deathmetal growl, to a bleak, harsh blackmetal screech, with the balance falling in to a barking midrange. The 'clean' backing vocals are eerily haunting. The bulk of the guitar work is a choppy Scandinavian riff factory: neck-snapping Swedish goodness. Bass rounds out or heavies up the sound, and drums vary from blast-fast, to incredibly precise on "Hordes Of Hel", to militaristic.
The band moves effortlessly through at least one set of key changes, multiple tempo shifts – including breathtaking full stops, multiple moods, experimentation with the folk sound, and at least three different tonal drifts. There are so many things to enjoy about the album that you practically miss the fact that there are no bonafide guitar solos. As striking as the album is with it's songwriting and production 'bells and whistles', it offers something odd: ten tracks, two guitarists, no guitar solos! In their place, we're treated to a 'bleak northern landscape': gripping, crazed lick after lick. Listen to where the raven's voice and the thunderclap are, in the introductory dirge "Arise" alone: that's something a good rock producer would pick up immediately, but it's so rare in metal that to hear it, is to hear an artist who's really trying to expand or innovate the boundaries of their chosen genre. The beautiful acoustic folk "Vigverk" and "Raadh" further emphasize the band's forward-looking direction.
One caveat, if purchasing based on reviews alone: electric guitar is not a 'Swedish traditional folk instrument'. This is not a folk album. It is a modern extreme metal release – touching on both the black and death metal subgenres. There's plenty of modern amplified electric guitar and electric bass on show here, juxtaposed to actual traditional instruments like the voice and various drums, to appeal to your Viking-metal type senses. Lyrics are, for the most part, written and sung in modern (versus olde) English. Regarding Legions Of The North as 'ancient traditional cultural heritage' is an error. It's an intense, varied album for contemporary listeners.
Criticism: Some of the blastbeat black metal passages can get a little tiring, because that particular 'style' has been done to death, but the band is so good at shifting gears that it's really a minor bone to pick – these passages become 'another texture' to absorb, rather then something to sit through. The sequencing is a little strange, but it ends up another nuance to enjoy rather then worry about. Unfortunately, no 'insert' was provided, so the names of the female vocalist and backing musicians are not available. While the band's Wikipedia entry states that Legions Of The North has 12 tracks, only ten were available to review (the other two tracks are bonuses) so the basic ten-song release is what's covered here.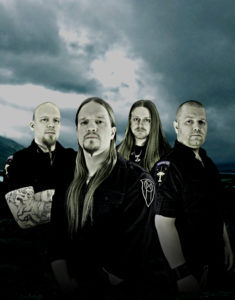 Overall, Manegarm's latest comes highly recommended: it's a chillingly good record, full of nuances, twists, and turns. It channels or glorifies the Viking way of life in an unusual and very effective way. That it seems to seek to innovate sets it leaps and bounds above most others. It's a mature, intense, driving release from a stalwart band. No one tempo or 'subgenre' dominates the tunes – we hear equal parts black, death, pagan, folk – it's an album with nearly the variety of a good rock record. A casual listener might not think of it that way, but that variety is just one factor that sets this wise, vicious wolf apart from the pack.
Tracklist:
Arise
Legions Of The North
Eternity Awaits
Helvegr
Hordes Of Hel
Tor Hjälpe
Vigverk
Sons Of War
Echoes From The Past
Fallen
Forged In Fire
Raadh
Band Lineup:
Erik Grawsio – Vocals, Bass Guitar
Jonas Almkvist – Guitar
Markus Ande – Guitar
Jacob Hallegren – Drumms