Saturday dawned bright, but not so early (I do need some sleep) and brought with it a busy day indeed.  The day kicked off gently with a local breakie and then heading over to the main stage at 12.15 for Bull-Riff Stampede.  Having seen their set on the New Blood Stage last year at Bloodstock, not even sleep deprivation was going to keep me from the main stage.  They didn't disappoint me either; another band that is going places quickly.  Ending with 'Thrashing Machine' was brilliant, leaving me looking forward even more to their set on Thursday at this year's Bloodstock.
Next it was time to head over to the press area and earn my pass with interviews before crossing the yard to the acoustic stage where I discover an absolute gem; Inferno.  At first glance I was already happy with their set in that it was a full acoustic, even using an acoustic drum box.  The whole set was a complete eye opener, leaving me wondering where the hell I had been to not have seen them before.  The musicianship displayed by each of them was fantastic and the gathered crowd were just as enthusiastic as myself.  If you've not seen Inferno before check out 'The Hand is Quicker Then the Eye' and you'll be sold.  The cheering and whistling was ridiculously loud and this got even louder with their cover of the Queens of the Stone Age's 'No One Knows'.  Just pure class!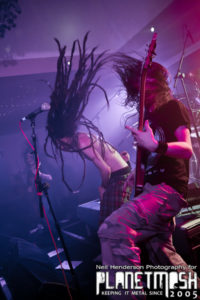 Following them on stage for the first of their two sets at Les Fest was Triaxis.  This was another special set and a privilege to get to hear them play acoustically ahead of their electric set the following day.  If you've heard their songs before then you know what a power house Krissie's voice is; in my mind she can easily compete with the biggest female voices in metal.  There was a good crowd still throughout their set and all were rewarded with 'Asunder' which they say they don't play in their electric set and it was indeed a real treat.  I couldn't stay for the whole set however as I had to run over to the main sage for another band I was not missing this weekend; Collapse.  I love this band – a really great bunch of blokes who deliver one hell of a show.  It's loud, aggressive, in your face and just damn well entertaining.  A very late addition to the bill they were not on the set times I had printed and so I wonder how many knew what was in store for them when they meandered to the main stage that afternoon.  But I can tell you, those that were there loved it!  (Bring them back next year please.)
Afterwards I earned my strips again with interviews.  First up was the lovely Mark D from Babylon Fire, followed by Matt and Lee from Furyon.   Such a good interview and really nice blokes as well; go and have a listen.  You'll laugh, you'll cry, you may even learn how to make your own guitarist!
But this is a festival and so more music must be gained and this time it was the main stage in the form of Severenth.  They really do give a lot of energy on stage and were well worth the watch. Off stage they're much more relaxed and over their impromptu dinner in a box we managed to have a catch up and interview.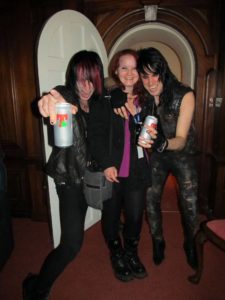 Later that evening after a missed (luckily re-arranged) interview thanks to poor food service, I went back to the main stage for States of Panic.  This was one of the sets that I was not missing for love nor money.  I first saw them at Underworld in Camden and was completely blown away and was really looking forward to seeing them again, especially to hear some more of their new songs.  If their new single 'One Of Us' was anything to go by it was going to be good…and it was.  As usual they rocked the stage bringing with them energy aplenty!  I had been playing songs from the recent radio special we did ahead of Les Fest, including from States of Panic and so I was interested to see what my festival buddies thought of them.  At first glance I know the male was inclined to disagree and openly admitted he was expecting nothing much, but by the end he was more than agreeing with me.  As were many others I heard who named it the set of the festival.  So what better way to cap it off than to head over straight away to the press room to interview them.  Another hilarious interview it is definitely one you should go and listen to…and remember…they are States Of Panic…..thank you. \m/
After the interview and a drink the PM team went back to the main stage for the last two bands; Monument and Furyon.   Both played storming sets but this was my first time watching Furyon so for me it was one of the best sets.  Especially when they played 'Voodoo Me', one of my favourite songs…and they didn't let me down.  It was perfect!
You would think that after the last band had played it was now time to sign off but nope, one more interview to do at about 2am – the rearranged interview from earlier – with Peter Ellis from Monument.  After this is was definitely time to clock off and enjoy a drink…..or two…maybe.