Lady Rage release their brand new single and video 'Bit By Bit'. The track is a sharp shooting alt-rock masterclass which embraces the angst of bands such as Helmet and L7. lead vocalist Siren Sycho states.
"We are the heaviest sound in high heels & we are back with our brand new single "Bit By Bit". It's about hitting your lowest after being at your highest & fighting whichever of life's many battles you can identify with right now.
Lady Rage are the whole package, as well as being very creative with the band's aesthetics, all 4 musicians perform loud, aggressive, and in-your-face punk rock, taking influence from such greats as Johnny Thunders, Ministry, Iggy Pop and Black Flag
Feast your eyes on the video for Bit By Bit here: 
Lady Rage are in the process of writing their debut album which is set for release in February 2023 and they will be touring throughout the rest of this year, including an appearance at the Rebellion Festival on Saturday 6th August; brace yourself for their next chapter.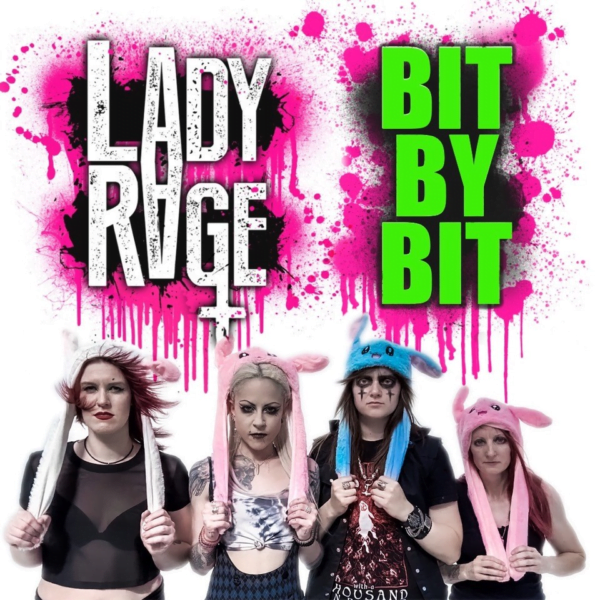 Lady Rage tour dates
August
19 The Post Bar – Tottenham
27 Cart & Horses – London
September
10 Balstock Festival, Herts
18 Dublin Castle, Camden , London
30 Vortex – Wakefield
October
28 The Fighting Cocks, Kingston
November
18 Albert's Shed – Shrewsbury
19 The Hive – Rotherham
20 The Spinning Top – Stockport
Lady Rage are: Siren Sycho – vocals aBomb – guitar Emilala – bass The Cannibal- drums
https://www.facebook.com/ladyrageuk/
https://www.instagram.com/ladyrage_official/ 
https://www.youtube.com/c/LadyRage_official