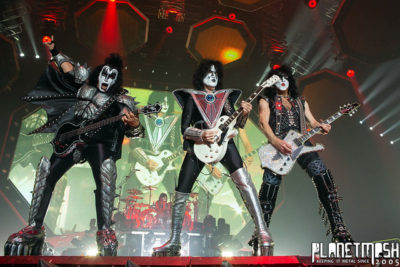 KISS kicked off the UK leg of their farewell tour in Birmingham. For fans in the mood for some drinking before the gig there was good news (bad news for music lovers though). Instead of bringing a band along to open for them, KISS instead decided to bring an artist to paint on stage while music played. I think it's safe to say this wasn't a decision many fans were enthused by.
Once the painter was finished it was time for the main event – The self proclaimed "hottest band in the world", Kiss. Admittedly these days Rammstein are more deserving of that title, but for this tour KISS brought more flames, more pyros and more explosions than ever before, and as always they've got a great stage setup with moving video screens as well as a great lighting rig.
Being KISS there are parts of the show they simply can't miss out. You know Paul Stanley will fly out on a wire to the small stage by the sound desk, you know Gene Simmons will spit blood and breathe fire. You know Tommy Thayer's guitar will fire rockets and so on – it's all familiar stuff to KISS fans but it's part of what they expect from the band – the theatrics to go with the music.
The explosions during the set are LOUD, and certainly get everyones attention. There are plenty of flames generating a lot of heat, and we get sparks flying too at intervals, but while all this goes on behind them the band carry on doing what they've been doing for many years – entertaining a large crowd and making it look easy. They use all the available space on stage to make sure the fans on both sides of the arena see them, and the screens help with that when not displaying other graphics.
As with the show there are plenty of songs KISS fans expect to hear, and that's long been a problem for the band – while many people want to hear the greatest hits, other fans are bored of hearing the band play the same songs on every tour and want to hear some more obscure tracks. Some songs simply can't be missed out, so we get "Lick it up", "Deuce", "Love gun" and more, but there are plenty of classics such as "Firehouse" that don't make it into the setlist while songs such as "Let Me Go, Rock 'N' Roll" were included (the first time I can remember seeing them play that out of the shows I've been to over the years).
For the encore, a piano rises up and Eric Singer plays it and sings "Beth" before it's time for "Crazy crazy nights" which really goes down well with the fans before the confetti cannons fire off and the band come out over the audience on extendable cherry picker arms. It's a big finish and while it marked the end of a great show, it also had a tinge of sadness – that was probably my last time seeing KISS perform live.