Canadian death metallers Kataklysm have revealed that their new album – tentatively scheduled for a summer release via Nuclear Blast – will be called 'Of Ghosts And Gods'.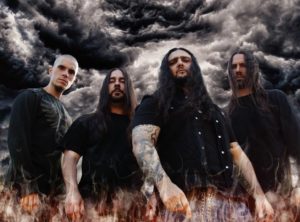 The band are currently in the studio recording the album – the follow up to 2013's 'Waiting For The End To Come' – although they will take a break to appear on the 70,000 Tonnes Of Metal cruise from January 22 – 26.
The drums, guitars and bass are being tracked by guitarist Jean-Francois Dagenais, while the vocals wil be recorded by Mark Lewis, known for his work with White Chapel, DevilDriver and Cannibal Corpse.  The results will be mixed and mastered here in the UK by Andy Sneap.
Keep up to date with developments at https://www.facebook.com/kataklysm.