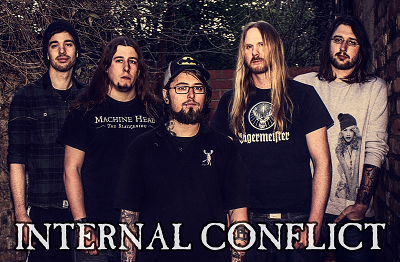 Internal Conflict are set to play the New Blood Stage at this years Bloodstock festival on Saturday the 10th August.
We catch up with the band to find out more about them, the festival, their thoughts and what you lucky Bloodstock go-er's will see!
Can you give the readers a quick introduction to the band.
We are internal conflict and we are a 5 piece metal band from Leicestershire.
After a couple of line up changes recently we have a new vocalist and bassist and we've been piling into the van hitting the road hard and writing plenty of stuff, including a single which you can find on our social media sites.
How would you describe your sound?
There are elements of Thrash and Metalcore in there, but we've got a pretty wide range of influences between us so it's more than that. People have likened us to everything from Lamb of God to The Haunted though Chimaira and Machine Head, Which is cool because we're all fans of those bands.  People will place us into whatever genre that want, but I just tell folks we're Metal!
Why did you want to become part of the New Blood Stage line up?
It's amazing how even though Bloodstock gets bigger they are still dedicated to supporting the British underground, it's always a great opportunity to get yourselves in front of people and just to have your name next to some of the biggest acts in metal is an incredible honour. As a band we just want to further ourselves and keep moving forwards, and play bigger and better gigs is what it's all about.
What was your initial reaction when you found out you were playing on the New Blood Stage?
It's still sinking in! Obviously we were pumped but at the same time kind of relieved that we had actually managed to get through. Everyone has been so supportive and the other bands in the final were really great about it, there was no bad blood between any of us and it shows just how good the local scene is becoming.
What can the audience expect from you at the festival.
Before every show our guitarist Matt always says to me "Lets Fucking nail this" and that's pretty much how we do things. We give everything we have in the locker for every show no matter how many people are in front of us. With this style of music you just have to attack every show head on and not let up, you have to entertain and make people want to watch what you do next. People have been saying good things about our shows so we must be doing something right!
What has been the bands biggest achievement so far?
I've only been in the band for less than a year, so I can't really comment on the long term. But I guess the fact that the Internal Conflict name is still about speaks volumes. After the former bassist and vocalist moved on to new lives, the guys were still so determined to carry on this dream and they are so focused on moving forward. To come this far and re-establish ourselves in this short time is a good sign, But this is just the beginning of what Internal Conflict want to be.
Have you ever been to Bloodstock before? If so when and what did you enjoy most about it.
I've been nearly every year since the open air event started; I myself played in 2006 with my old band on the new blood stage and its Internal Conflicts second appearance. I've always said what I enjoy most about bloodstock is the accepting nature of the audience and the overall atmosphere. It's chilled out and so much more relaxed than the bigger events, probably because of the scale and how it isn't a mission to get to everything.
What is your opinion of the Bloodstock line-up.
It's a good year, for me the Sunday main stage is phenomenal. But I'm also enjoying how the Sophie stage has so many British bands who have come through the ranks on it. Bloodstock is one of those festivals that even if you haven't heard of most of the bands you can still turn up and find plenty of stuff you will enjoy.
What are you looking forward to most at Bloodstock.
Getting to perform! As well as just being able to party out, our guitarist is having his first child soon so we're going to celebrate in style.
Can you sum up Bloodstock in one sentence!
THE weekend to get beer soaked and battered.
Any message you wish to pass on to the PM readers
Come and watch us destroy ourselves, you might even like what we do! Adam Kyle – vocals
Thank you for taking the time out to complete this interview, we are looking forward to seeing you at Bloodstock \m/ \m/
Links:
www.facebook.com/internalconflict
http://internal-conflict.bandcamp.com/
http://www.youtube.com/channel/UCtCzUlTBIe9IEtOpkau4DyQ