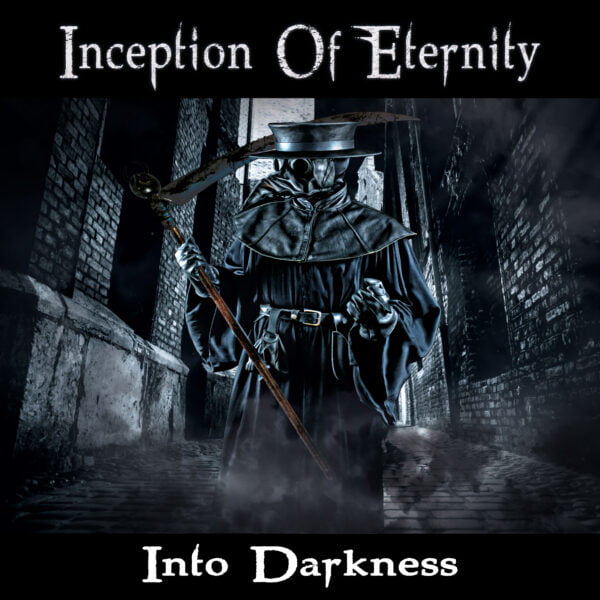 Inception Of Eternity is the new project from German gothic artist Thorsten Eligenhausen. He has written and produced a great selection of tracks with the addition of American vocalist Ken Pike. Their debut album Into Darkness is set to be released on German label darkSIGN records on 21.08.2020
Medieval Pagan Beginnings
The Inception of Eternity is an intro where the musical story unfolds. Step by step we get the introduction of different sounds that take you on a journey to a dusty landscape. Drum rolls bring to mind a marching army of gothic plague doctors. Keyboards add to the atmosphere, clocks chiming, angelic female vocals whilst pipes are played. It all sounds very majestic yet sinister at the same time.
Ashes To Ashes is a lively start that compliments the epic medieval intro. Dirty symphs play a catchy riff. Dark wave sounds are mixed with symphonic metal deep in the background. It has a strong pagan sound throughout and a dark melodic vocal. It has that right balance that could fill a goth club dance floor or could be played at a metal festival with the crowd waving their swords in the air.
Whatever You Want is dark and poetic. The verses are sung like a dark poem full of desperation, with wonderfully deep vocals. The sing along chorus has a medieval celtic sound similar to melodic battle metal. Two different sides that meld together beautifully to create a satisfying whole. Father sounds like a medieval folk song that harks back in time to old village life. Imagine being sat around an open fire with your minstrels singing tales of long lost ancestors. The end of album bonus acoustic version works as a mellow alternative conclusion.
The dark modern industrial gothic landscape of the present and future
Children From Hell features guest lead vocals from SINtana. Beautiful piano leads into pure gothic, operatic metal that is almost trance-like. The male / female vocals compliment each other and add to the freshness, bringing the album back into the 21st Century. Obsession has a strong electronic element to the song, like a melodic Rammstein blended with 13 Candles. Lyrically, it wears it's goth heart on its sleeve as it regales a list of sins.
After dark comes the light. Beyond Sunrise is a beautiful fantasy-like instrumental with lead guitar by Marc Vanderberg. It is so upbeat and joyful it makes you feel like you are in a magical realm. Lust For Life is a wonderfully morbid song reminiscing about a life well lived. Looking back at the good old days and saying a final goodbye to friends. Imagine walking down a very dark tunnel heading towards a distant light. Atmospheric verses bring about a heavy sombre chorus. Bright Lights is electronic industrial with a tender upbeat chorus that is a joyful listen. Like taking a peaceful night time stroll and admiring all your surroundings. I Don't Care, with its dark brooding slow burning electronica acts as an intro for Lies.
Lies has lots of influences from post punk to goth and industrial. I can imagine this being a live favourite. It is short, punchy, melodic and has wonderful drumming throughout. A blend of Rammstein, Diary of Dreams and Sinnergod. My Mortality concludes the album with its electronic soundscape and cyber beats it is reminiscent of The Cruxshadows and The Last Dance with added guitar.
Into Darkness starts with the inception, music from a time long ago and concludes with modern electronica looking into eternity. A lot is packed into each of the songs despite their relatively short running times so none of the tracks outstay their welcome. The album styles subtlety transform from medieval pagan rock to modern industrial and dark wave without sounding disjointed. A varied and rewarding listening experience.
Written, recorded and produced by Thorsten Eligenhausen
Vocals – Ken Pike
Guest lead vocals on Children From Hell – SINtana
Lead guitar on Beyond Sunriase – Marc Vanderberg
Tracklisting:
From medieaval pagan rock to modern industrial traditional goth, Inception Of Eternity have released a cohesive and enjoyable album that is like taking a trip through time.