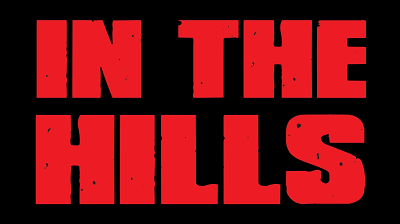 In The Hills are set to play the New Blood Stage at this years Bloodstock festival on Saturday the 10th August.
We catch up with the band to find out more about them, the festival, their thoughts and what you lucky Bloodstock go-er's will see!
Can you give the readers a quick introduction to the band.
Choff : "Similar to the plot of the film 'The Hills Have Eyes', the band met whilst attacking an innocent all American family in a motorhome in the middle of a deserted canyon.  Nick, our bassist, kept the baby as a memento."
How would you describe your sound.
Choff : "We play a mix of sludge & doom.  Heavier than your Nan's colostomy bag"
Why did you want to become part of the New Blood Stage line up?
Luke : "Bloodstock is such a great event – we really like how they help promote new bands and give them a chance to play in front of hundreds of people…plus we get to see some of our favourite bands – what's not to like?!'
What was your initial reaction when you found out you were playing on the New Blood Stage?
Choff : "Drunk copious amounts of cider and thumbed through my laminated collection of granny porn."
What can the audience expect from you at the festival.
Choff : "We play a mix of sludge & doom.  Heavier than your Nan's colostomy bag"
What has been the bands biggest achievement so far?
Choff : "Well, Bloodstock will be our biggest achievement by a country mile – we don't usually get nervous….but we do all get rather horny."
Luke : "We recently played the Bournemouth 02 supporting Bam Margera – we really enjoy playing larger stages, so we're super stoked for Bloodstock."
Have you ever been to Bloodstock before? If so when and what did you enjoy most about it.
Luke : "Actually we are all Bloodstock virgins – which is a massive shame given we missed the likes of Carcass, Crowbar and Gwar (to name but three) over the years."
What is your opinion of the Bloodstock line-up.
Luke : "As usual it's a really good diverse line-up – something for everyone.  To be honest, we're all very excited at checking out as many of the bands of the New Blood stage as possible."
What are you looking forward to most at Bloodstock.
Choff : "Diesel King, Slayer, Beholder, XIIBoar & Gojira spring to mind"
Luke : "What Choff said for sure…oh, and my childhood favorites Wolfsbane and Xentrix"
Any message you wish to pass on to the PM readers
Choff : "If you're at Bloodstock new week, why not check us out if you like it slow and heavy…if not we know where your Nan lives and we've got plenty of lube!"
Luke : "A massive thank you to Simon Hall, Bloodstock and all their sponsors for making this all happen!"
Thank you for taking the time out to complete this interview, we are looking forward to seeing you at Bloodstock \m/ \m/
Links:
https://www.facebook.com/inthehillsuk
http://www.youtube.com/user/inthehillsuk