Once in a while a band comes along that just picks you up by the scruff of your neck and carries you away with them on their journey. 'I Saw The World Burn' did just that on Thursday night at Buckley's historic 'Tivoli' venue.
My primary objectives that night was to interview Skindred and ensure I was at the front for their pulsating set (The interview and gig review will be published soon), and having got chatting to the guys from ISTWB beforehand, I was very interested to see what they had on stage.
It was clear from their soundcheck that these guys are right up my street. A cracking bunch who, as a band geographically, shouldn't work. One member lives in Denbigh (N.Wales), one in Bangor (N.Wales), and one in Widnes. As a group they rehearse in Stoke, so it's easy to see the dedication that's here from all band members.
Having a female vocalist makes this band even more special. The anger and stage presence that's on show by Katie Cairns mesmerises you in such a way that you can't help but be seduced by every word that's driven throughout her vocal range.
I can only describe ISTWB's style as proper heavy metal / intense thrash. They produce brilliant riffs with awesome speed changes. There's some Slayer-esque riffs which are always welcome. Vocals are penetrating and full of anger.
This 6 x song set is flawless and tight in every way and there's a great response from the crowd. A great start to the night.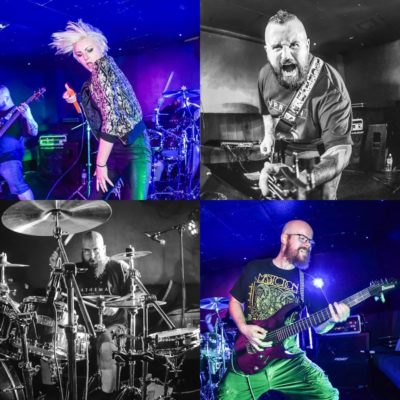 Set-List:
1 – Inborn
2 – Consensus
3 – Nullify
4 – Myopic
5 – Apostasis
6 – Species Obsolete
Band Line-up:
Katie Cairns – Vocals
Ian Deaville – Guitars / Backing Vocals
Don Jackson-Wyatt – Bass
Graeme Williams – Drums
Links
A superb intense performance from a band destined for greater things