NEW YORK, NY April 2, 2021, Critically acclaimed rock/hip-hop fusion artist Hyro The Hero just dropped an epic new single titled "Legendary," with the help of chart-topping metalcore band Atreyu. 
The track told through the perspective of a champion celebrating his victories with lyrics like, "Now look what I have become/ I'm a legend living in the present/ You are witnessing perfection/ You should feel blessed in my presence," makes an unapologetic statement about leaning into one's confidence. Co-written by Hyro, Matt Good, Brandon Saller (lead vocalist of Atreyu), Dan Jacobs, Travis Miguel, and amplified by aggressive production from Good, the song continues Hyro's unique musical journey, blending genres, paying tribute to his Houston, TX roots, and expanding his ever-growing love for rock music.
"Legendary" is now available to stream or download across digital platforms HERE.
Of the new track, Hyro the Hero says, "'Legendary' is a look into the life and feeling of a champion. I wanted to express how it would feel in my mind to make such an impact on the world that you are considered a legend. I'm so happy that Atreyu was able to be a part of this song, and that Brandon Saller lent his amazing vocals. They have been in the game for years and bring an actual legendary power and life to it. This is such an epic track and my goal is that it will inspire others to lean into their greatness."
Saller added, "Hyro first got put on my radar maybe seven years ago by a good friend Fred Archambault. Since then I've had my eye on what he was doing. Last summer we did the Disrupt Festival with him, and he blew me away at every show. His energy was amazing and we immediately hit it off. When the opportunity came to be on a track with him, I had no hesitations. This song has such a vibe to it and has so much power. I'm stoked to be a part of it."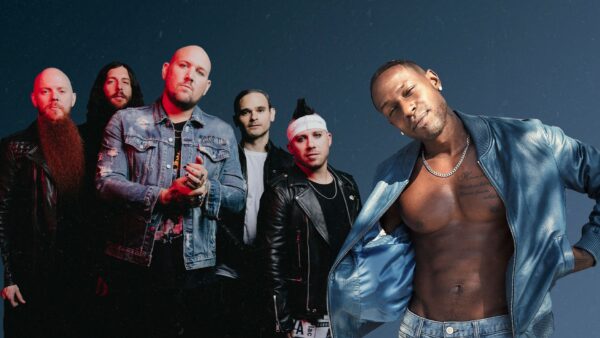 The track is the first offering from Hyro's recently announced mixtape KIDS AGAINST THE MONSTERS. Earlier this week, he shared the news of the project through a reflective piece of personal writing that Knotfest published. In it, he explains how growing up in Houston introduced him to the idea of the mixtape, and how sacred that concept is in the hip-hop community to get your music heard. As he's been emotionally pulled towards rock music, he still has that mixtape and hip-hop ideology embedded in his DNA.
Read the full statement HERE. Additionally, Knotfest will be airing a series of interviews with Hyro in the coming weeks and months to dive deeper into the project and the inspiration behind each track. The interviews will also feature a line-up of special guest artists that appear on the mixtape, including Spencer Charnas of Ice Nine Kills and Chad Grey of Hellyeah.
KIDS AGAINST THE MONSTERS is set to be released in full later this year.
###
ABOUT HYRO THE HERO
Hyro The Hero is a modern-day rock star. A product of hip-hop, punk, and heavy-rock fusion, the Houston-bred artist leans into his influences boldly, creating a sound that is all his. It is at its most progressive on his new mixtape Kids Against the Monsters, a nuanced piece of reflective storytelling that paints the picture of frustration, fear, and anger at the current state of the world. With perceptive lyrics and aggressive instrumentals, the project channels the truth-telling of old school rap and the emotional rawness of 90s grunge.
Hyro has received critical praise from the likes of BBC, Afropunk, and Alt Press, solidifying him as the type of artist that grabs listeners across cultures and brings them together for a movement. With this new project, that movement calls for all the "Kids" to face their monsters in the same spirit that all of Hyro's music encapsulates – a celebration of the human experience, however flawed and ugly it may be.
Connect with Hyro The Hero on social media and streaming platforms HERE.
ABOUT ATREYU
ATREYU ushered in a new movement in heavy music. Their music seamlessly intertwines with formative experiences for a diverse legion of dedicated listeners, many of whom started their own bands. They've broken into the Top 10 in the Billboard 200 more than once; two of their albums are certified gold. Yet, two decades since the release of their first album, ATREYU is just getting started.
Unbound by false restrictions about any particular anthem sounding "too heavy" or "too pop," ATREYU is a creative beacon of hope for the people shaken by the suggestion that "rock is dead." The Orange County, California band's riffs, hooks, melodies, and passion are essential parts of a vibrant subculture's emergence across theaters, clubs, festivals, radio, and playlists. And the artistic fearlessness powering landmark albums like The Curse and Lead Sails Paper Anchor is even stronger.
ATREYU's unquenchable appetite for creative achievement, and pursuit of a shared catharsis on stage, is what drove them to form the band as teenagers around the turn of the millennium. It pushed them beyond their do-it-yourself beginnings to massive festival stages (including two runs on Ozzfest), sold-out headlining tours, movie and game soundtracks, and appearances alongside fellow genre standard-bearers, including Linkin Park, Avenged Sevenfold, Deftones, Slipknot, and Bring Me The Horizon.
A bold chapter in the band's never-ending story of determination, Baptize is a definitive work for a new era. Like 2018's In Our Wake, ATREYU recorded Baptize with producer John Feldmann. Guests include Jacoby Shaddix (Papa Roach), Travis Barker (blink-182)[MT1] , and Matt Heafy (Trivium). Songs like "Warrior," "Catastrophe," "Save Us," and "Underrated" are massive. They stand confidently alongside ATREYU bangers like "The Time is Now," "Becoming the Bull," and "Bleeding Mascara."
Adeptly combining the sounds of thrash, hardcore punk, and the New Wave of Swedish Death Metal, ATREYU quickly evolved to a place where fans of everything from Linkin Park to Lamb Of God could come to the party. Adventurous, ambitious; ATREYU is best described, plainly, as a loud rock band.
As one prominent hard rock critic observed early in the band's career: "If you haven't figured out these guys are aiming for a bigger sound by now, you might want to try cleaning out your ears."
Atreyu links: https://www.facebook.com/search/top?q=atreyu | https://www.atreyuofficial.com/