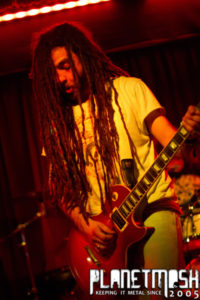 At a first glance, tonight's lineup seems like Deja-vu – Hornet, Titans & Kings, and Mia Klose playing together.  The reason for that is that they played together just four months ago at the Barfly.  Tonight's lineup though sees Driven added to the bill for this, Hornet's album launch gig.
Driven were up first.  I missed the first part of their set, but what I saw was very good.  They'd got quite a screamy style of vocals and a nice heavy rock sound.  At one point they got a conga line of fans going around the venue while a couple of the band came off the stage and played from the floor as people conga'd around them.  A very good start to the night.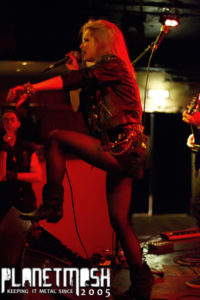 Next up came Mia Klose.  One of her last gigs was playing the Sweden Rock Festival just a few weeks earlier to large crowds, and she also has an appearance at Bloodstock festival coming up, but she looked just as comfortable on the cramped stage at the Borderline as on a large festival stage.  She may be tiny but she's got a good strong voice and is a great performer who seems at home on stage.  Her 80s rock sound goes down well with the Hornet fans, many of whom will have seen her before.  As always her band are in good form too, and their set just flies by.
Next came Titans and Kings.  I'd seen them before and quite enjoyed them, and tonight I thought they were very good.  Having listened to them on facebook I'd say they're definitely one of those bands that sound better live.  Like Mia Klose, they have a fairly short set that's the downside of having four bands on the bill – you get more bands but less time for each.  Their hard rock sound went down very well with the crowd.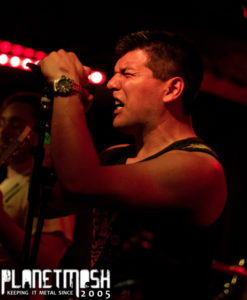 Titans & Kings setlist
Freedom
Breakout
Guns knives
Aeroplane
Jealousy
Dominique
Fire to the night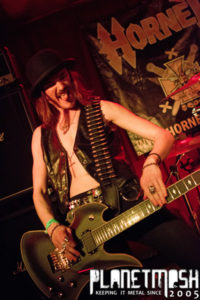 Finally came Hornet.  I've seen them several times now and they're always great live, but tonight was slightly different – they weren't just great, they were on fire.  They started off great and kept getting better through their set.  By this stage in the night the venue was starting to resemble a sauna, and thats just how it was in the crowd – with the stage lights then the band would have been roasted on stage.  Althugh this was the album launch, it really marked the general release of the album.  The album had been funded via a pledgemusic campaign, and fans who had pledged got their copies of the album a few weeks earlier.
As a result then most of the fans in the crowd tonight already had the album and knew the songs well.  As you'd expect from an album launch show, the setlist was based  around the album – in fact of the 12 songs played tonight, 11 of them were taken from the new album, with 'Hunky Dorey' being the only non-album track played.  This meant we got the entire album played, although not in the same order as the album.    This was an excellent gig – the best I've seen them.  If you haven't listened to Hornet yet, then I'd definitely suggest you check them out – the album is great and live they're even better.
Hornet setlist:
Drive on
State of emergency
I'm gonna be the man
Sweet lips
Second hand smoke
Hunky Dorey
Storm the gates
Under pressure
Bite down
Skies are falling
Rock'n'Roll riot
Encore:
Down to the bone